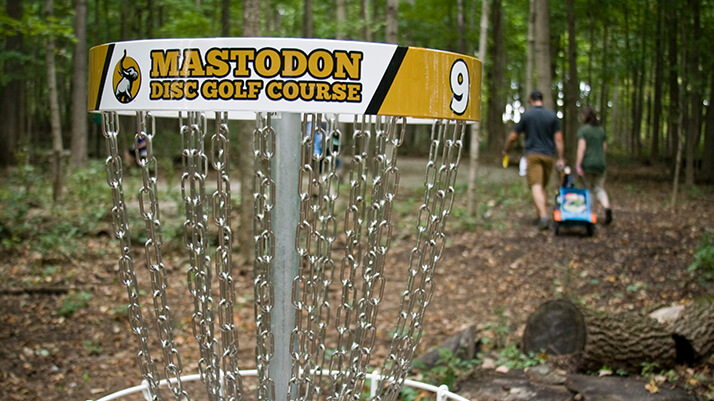 Operating Hours: Dawn to dusk
Operating Season: Year-round, weather dependent (closed during cross country events)
Free and open to the public
Disc golf is played like traditional golf, but with disc golf discs instead of balls and clubs. One throw (stroke) is counted each time the disc is thrown and when a penalty is incurred. The goal is to play each hole in the fewest strokes possible. The player with the lowest total strokes for the entire course wins.
The 18-hole Purdue Fort Wayne course, designed by alumnus Brian Spaulding, B.S.'08, and professional disc golfer Brian Miller, highlights the natural beauty of the wooded property and offers options for multiple skill levels. The standard course layout is played on the black teepads, while the gold teepads are recommend for advanced skill levels. Basket positions will periodically change between "A" and "B" (advanced) locations. Current locations are marked on each tee sign; view the Disc Golf Course Map
The course was made possible through funding from the Student Government Association, along with installation support from the Facilities Management Ground Operations staff and members of the local disc golf community.
COURSE RULES AND GUIDELINES
The use of tobacco, drugs, and alcohol is prohibited on the Purdue Fort Wayne campus.
Pedestrians and other campus users have the right-of-way. Be aware of surroundings.
Help keep the course clean by discarding all trash in receptacles.
The course is open from dawn until dusk.
The course is closed during Cross Country events (posted to info board calendar).
Allow faster groups to play through when possible.
Follow out-of-bounds rules and mandatories provided on each tee sign.
Do not alter the course.
Venue Features
Size: 18 holes
Electrical: no electrical supply
Water: no running water supply
How to Schedule
For tournaments, large groups, exhibitions, or other similar use, request a reservation.
Questions about this venue
For additional information, please contact Special Events at 260-481-6612.