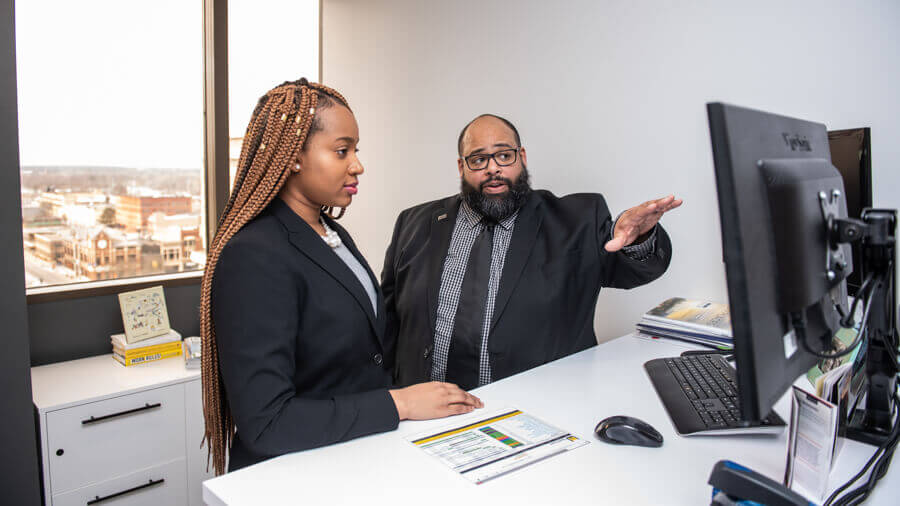 Discover Your Pathway
If you choose to be in the Pathway Program, your experience will begin during New Student Orientation, when you meet with a Pathway advisor.
Before the term begins, you'll take a career/major assessment and discuss career-exploration experiences and your degree and career objectives with your advisor, who will help you understand more about how to decide on a major and which majors might be a good fit based on your interests and goals.
You will leave New Student Orientation with your schedule and short-term goals related to choosing a major. As a Pathway Program student, you will be encouraged to declare a major by the time you earn 30 credit hours. You'll be fully supported throughout your journey, but we'll need you to work with us to be successful. When you become a part of the Pathway Program, you agree to
be an active participant in the process;
do what is necessary to achieve your academic goals; and
meet with a Pathway Program advisor at least once per term until you have declared a major.
Your Advisor
Your Pathway Program advisor will be your partner and guide as you explore your career opportunities and choose a major. You can expect your advisor to be:
knowledgeable, as they will understand academic regulations, deadlines, university policies and procedures, degree requirements, and the right order in which you should be taking courses (they'll also direct you toward resources that will help you be successful and make referrals as needed);

accessible, as they will be available for you when you need them, responding quickly to phone calls and emails; and

your resource, as they will share any information that will help you make your decision, manage academic loads, academic progress, and understand relationships among degree requirements, areas of enrichment and degree enhancement, goal setting, time management, and how coursework leads to careers.