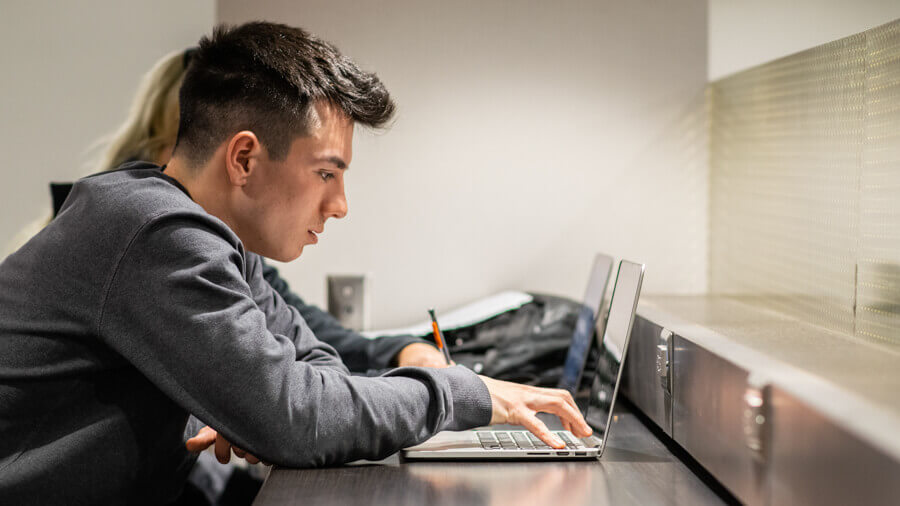 Ready to declare?
You've explored your pathway and decided it's time to declare your major.
Please know that department entry requirements may differ, so make sure you verify degree requirements via the University Catalog.
Once you have done that, please print a copy of your unofficial transcript either from your goPFW account (within the Enrollment tab) or the Enrollment Services desk on the first floor of Kettler Hall, and take it to the college, school, or department office for your major.
Where to Declare Your Major

| Major/Department/School | Where to Declare |
| --- | --- |
| Actuarial Science | Liberal Arts Building, Room 154 |
| Anthropology | Liberal Arts Building, Room 154 |
| Art and Design | Visual Arts, Room 117 |
| Biochemistry | Liberal Arts Building, Room 154 |
| Biology | Liberal Arts Building, Room 154 |
| Business (Finance, Economics, Management, Marketing, and Accounting) | Neff Hall, Room 366 |
| Chemistry | Liberal Arts Building, Room 154 |
| Civil Engineering | Engineering, Technology, and Computer Science Building, Room 321 |
| Communication | Liberal Arts Building, Room 154 |
| Computer Engineering | Engineering, Technology, and Computer Science Building, Room 327 |
| Computer Engineering Technology | Engineering, Technology, and Computer Science Building, Room 205 |
| Computer Science | Engineering, Technology, and Computer Science Building, Room 125 |
| Construction Engineering Technology | Engineering, Technology, and Computer Science Building, Room 205 |
| Data Science and Applied Statistics | Liberal Arts Building, Room 154 |
| Early Childhood | Neff Hall, Room 243 |
| Economics | Liberal Arts Building, Room 154 |
| Electrical Engineering | Engineering, Technology, and Computer Science Building, Room 327 |
| Electrical Engineering Technology | Engineering, Technology, and Computer Science Building, Room 205 |
| Elementary Education | Neff Hall, Room 243 |
| English | Liberal Arts Building, Room 154 |
| General Studies | Kettler Hall, Room 144 |
| History | Liberal Arts Building, Room 154 |
| Hospitality Management | Neff Hall, Room 243 |
| Human Services | Neff Hall, Room 243 |
| Industrial Engineering Technology | Engineering, Technology, and Computer Science Building, Room 205 |
| Information Systems | Engineering, Technology, and Computer Science Building, Room 125 |
| Information Technology | Engineering, Technology, and Computer Science Building, Room 205 |
| Interior Design | Visual Arts, Room 117 |
| Mathematics | Liberal Arts Building, Room 154 |
| Mechanical Engineering | Engineering, Technology, and Computer Science Building, Room 321 |
| Mechanical Engineering Technology | Engineering, Technology, and Computer Science Building, Room 205 |
| Music | Rhinehart Music Center, Room 144 |
| Organizational Leadership | Neff Hall, Room 288 |
| Physics | Liberal Arts Building, Room 154 |
| Political Science | Liberal Arts Building, Room 154 |
| Psychology | Liberal Arts Building, Room 154 |
| Public Affairs | Neff Hall, Room 243 |
| Secondary Education | Neff Hall, Room 243 |
| Sociology | Liberal Arts Building, Room 154 |
| Spanish | Liberal Arts Building, Room 154 |
| Theatre | Williams Theatre, Room 128 |
| Women's Studies | Liberal Arts Building, Room 154 |