Realignment: Academic Affairs and Enrollment Management
The Higher Learning Commission Team Visit
The Higher Learning Commission will be conducting a Fact-Finding Review of IPFW on Tuesday September 5th through Wednesday September 6th. The purpose of the review is to better understand the realignment of IPFW and provide recommendations to the Higher Learning Commission Board of Trustees. If approved by HLC, the realignment agreement consolidates all Health Sciences Programs as Indiana University Programs solely managed and controlled by IUPUI. The remainder of academic programs offered on the Fort Wayne Campus will form Purdue University Fort Wayne and will be managed and controlled by Purdue University. Purdue University Fort Wayne, therefore, continues the historic mission and managerial control of the Fort Wayne Campus by Purdue University. The attached sections of the application for Change (Section A and Section C) provide details of the organizational change.
Section A, general introduction
Section C, institutional statement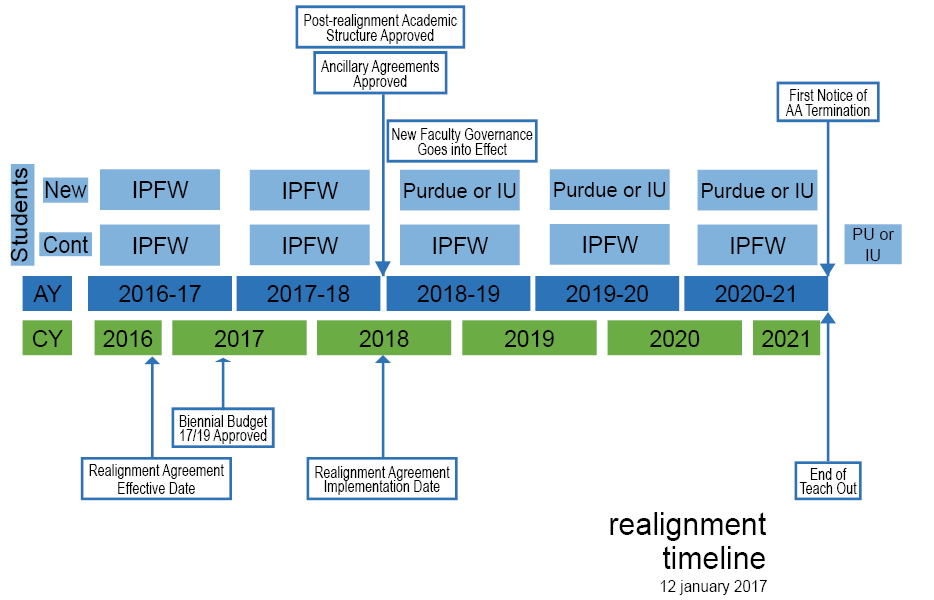 __Friday, June 16th, 2017__ IPFW Announcement Email:
Earlier today, the Purdue University and Indiana University Boards of Trustees approved ancillary agreements to continue the work of realignment which will be effective July 1, 2018. The agreements approved include the Program Transfer Agreement; Student, Faculty and Staff Services Agreement; Curriculum Offering and Academic Delivery Agreement; Lease Agreement, and Teach-Out Agreement. With the exception of the Program Transfer Agreement, which takes effect July 1, 2017, the agreements provide for a one-year transition period before the realignment fully takes effect on July 1, 2018.
Our new name will be "Purdue University Fort Wayne" known as Purdue Fort Wayne.
Pending HLC approval, the new name of our IU colleagues will be IU Fort Wayne.
Processes
HLC Change in Organization Application
HLC Timeline and Visit Preview
HLC Fact Finding Team - September 5th & 6th visit
New Purdue Fort Wayne Course code list
The Legislative Process (including budget) in Indiana