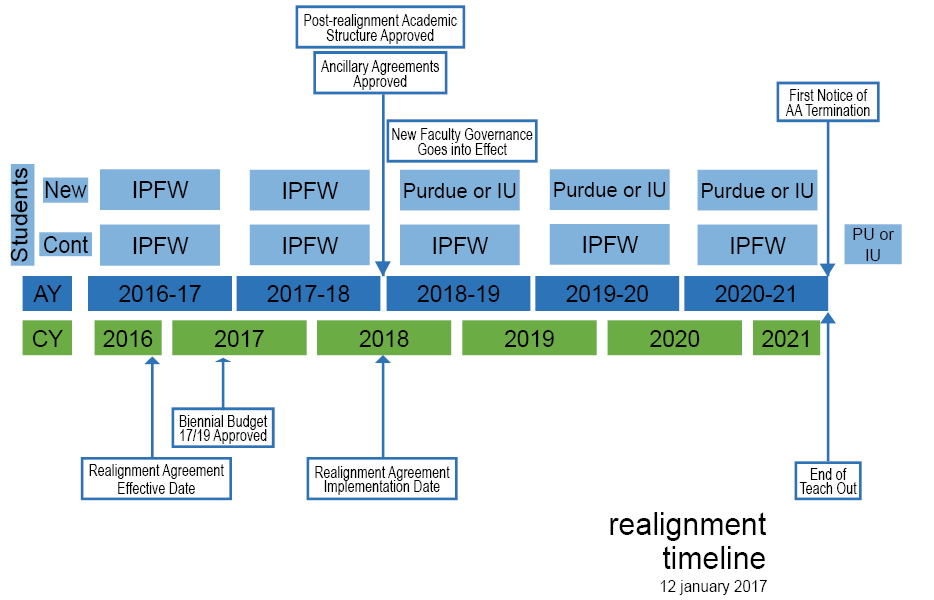 Realignment Timeline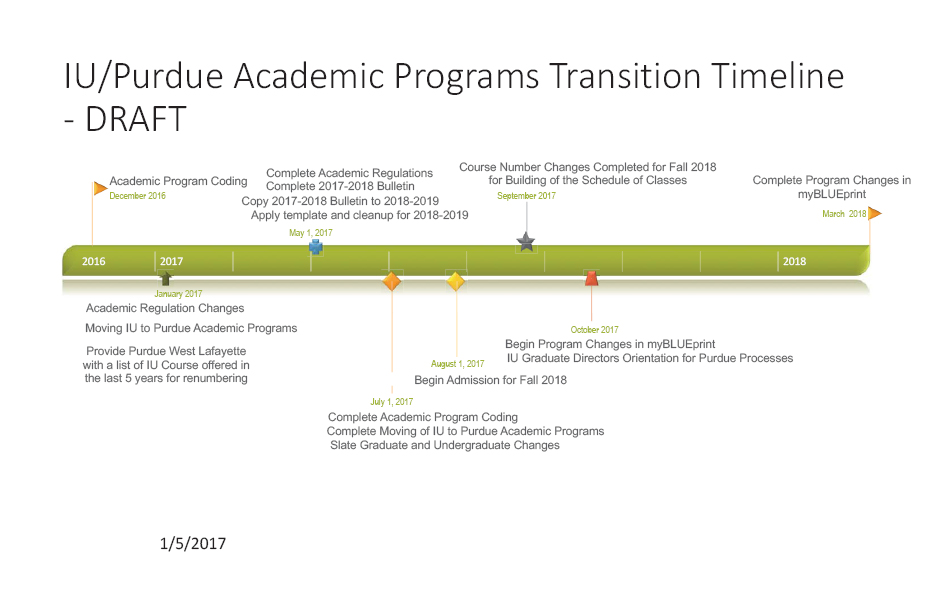 Academic Programs Transition Timeline draft
Introduction
Academics Working Group Topics
On January 5th, 2017, 75 Deans, Associate Deans, Chairs, Academic Affairs staff, Enrollment Management staff, and the members of the four standing Senate committees (full roster of attendees) met to begin the discussion of both the realignment transition process and the post-realignment structure. On January 30th, 2017, about sixty faculty, staff and administrators (attendees who RSVP'd) met for a similar discussion. As we move through the coming weeks, we will all work to provide clarity/answers to the issues/concerns raised at both of these meetings as well as address topics they raised.
Some suggestions these participants offered to keep in mind as we progress are that the outcome of this process should be a university that meets the changing needs of our non-traditional and traditional students, is flexible, forward thinking, unified, supportive of research and faculty driven with strong liberal arts. It should become cohesive, a leader, respected and more well known. It should value community, creativity, diversity, people and critical thinking. We should become the premier campus of Purdue University (see complete list of beliefs and values).
Seventy-five people at these events voted for the name Purdue Fort Wayne (all other choices received five or fewer votes). This group also strongly suggested using existing Senate, committee (CCSAC, APSAC etc.) and department structures (where applicable) to work on transition processes along with broad faculty, staff, and student input.
Post-realignment restructuring. Groups at each meeting participated in an academic restructuring exercise. Criteria such as shared content, common academic skills, accreditation needs and interdisciplinary collaboration and/or learning were used to create new academic structures. The complete list of criteria will be shared with groups working on this issue as will the list of additional information they felt would have been useful and ways to encourage wide participation
We welcome suggestions and feedback. As in all other university matters, the well-being and best interests of IPFW students are our highest priorities.
Past Events
Chairs and Deans Meeting
Thursday, January 5th, 2pm-5pm: Alumni Center
January 5th Meeting Attendees
January 5th Meeting Report Out
Friday, May 12th, 8:30am-11:30am: Alumni Center
Transition III PowerPoint
Realignment From the IU Transitioning Perspective
Faculty Assembly
February 13, 1:30 p.m.
Neff 101
Faculty Assembly about realignment and reorganization
January 23rd Faculty Assembly
January 31st email to faculty from Senate Leadership
Monday, Feb. 20th, noon: Faculty Assembly LA 159
•Friday, Feb. 24th: Information from departments to Senate (senate@ipfw.edu)
•Campus wide discussions of department missions and core values (locations to be announced)
•Monday, Feb. 27th, 3:00pm: Neff 101
•Tuesday, Feb. 28th, 3:00 pm: LA 159
•Wednesday, March 1st, 1:30 pm: Neff 101
Senate Meeting
February 13, Noon (2017)
Kettler G46
Senate Executive Committee to present process to facilitate academic reorganization to Senate for approval
IU Team Visit
On Monday, February 6th (2017) a team of people from IU will be visiting IPFW for the purpose of beginning work with us on the Ancillary agreements concerning Academic and Student Systems and Academic Transitions. This document includes Academic and Student Systems group members and Academic Transitions group members. Faculty members for other realignment working groups are also listed.