Upcoming Event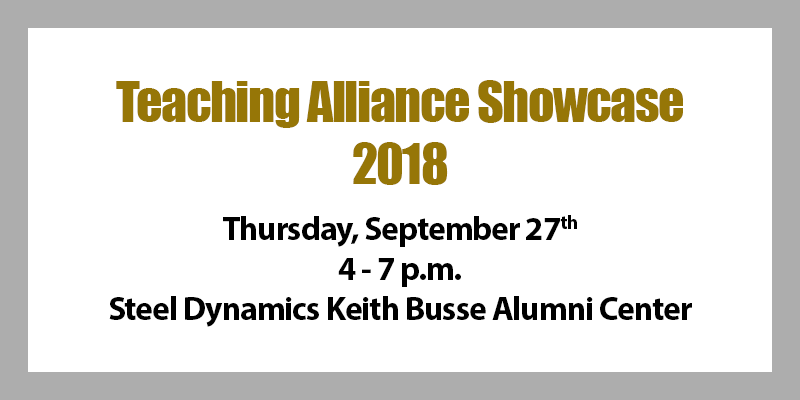 The Alliance for Teaching Enrichment is a new organization of Purdue Fort Wayne faculty created to bring together those most interested in student success, quality instruction, and advancing the academic mission of the University. The Alliance's second annual Teaching Alliance Showcase is Thursday, September 27 from 4:00 - 7:00pm at the Steel Dynamics Keith Busse Alumni Center.
2018-2019 New Faculty Institute
All of the following workshops are
from 12:30 - 2:30 p.m. and in Kettler Hall 117
New faculty are expected to attend these events if not teaching a class. Calendar (See second page.)
Friday, September 14
Lunch and assessing your teaching success at Purdue Fort Wayne; Facilitated by the Center for Enhancement of Learning and Teaching
How are you doing? Using midterm evaluations/SGIDs/CATs to assess your teaching now. Preparing student evaluations to assess your teaching at the end of the semester.
Friday, October 19
Documenting your success at Purdue Fort Wayne; Facilitated by Associate Vice Chancellor Marcia Dixson and Associate Dean Mary Cooper
Governance Structure

Senate Documents

Your college documents

Reappointment process

Promotion and Tenure process and support resources
November 9
Teaching Purdue Fort Wayne students with high impact practices (HIP); Facilitated by Associate Deans Terri Swim and Kim McDonald
What are high impact practices? Why should we care? Which are useful for you? What resources do we have to help you develop/offer HIPs?
January 18
Advising Purdue Fort Wayne students: What you need to know and do; Facilitated by Purdue Fort Wayne Advising Council
Know: General Education, Baccalaureate framework, myBLUEprint, Banner
Do: Intrusive advising
February 8
Resources for research at Purdue Fort Wayne; Facilitated by Helmke Library
Under construction: Finding the right journal for you including publishing in open access and avoiding predatory journals.
March 22
How to get your research done at Purdue Fort Wayne ; Facilitated by Associate Dean Bruce Kingsbury
Purdue Fort Wayne Writing Circle, successful researchers panel, accountability colleagues
April 12
Lunch and discussion of how your year at Purdue Fort Wayne went. What do you need next year? Facilitated by Department Chair Beverly Redman
Open discussion