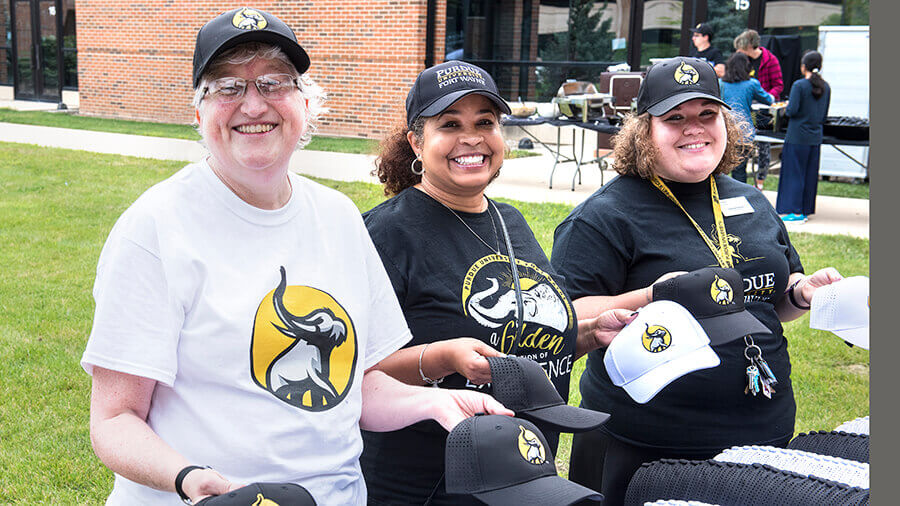 Start With Us. Stay With Us
Human Resources and Office of Institutional Equity strives to partner with and empower the Purdue Fort Wayne campus community in support of the university's mission of student success. We recognize that the people of our community—students, faculty, and staff—are our most important and valuable resources.
We therefore work tirelessly to make Purdue Fort Wayne the employer of choice in the region, support integration of life and work experiences, and facilitate a diverse and inclusive campus, in addition to providing valuable knowledge, training, and resources to faculty and staff.
It is our mission to support the university, our students, and you.
Our Vision
Our vision is to be a premier Human Resources and Institutional Equity Unit offering comprehensive services supporting a wellness culture for faculty, staff and students. Fundamentally, achieving our vision would support a high-functioning wellness culture of physical health, emotional health, sense of purpose, level of belonging, financial security and personal success for faculty, staff and students at Purdue Fort Wayne.
Our Values
P
People-centered Exceptional Foundation
We will transform our model to provide exceptional people-centered initiatives.
E
Excellence Standard
We will conduct our work through excellence as a standard, not the goal.
O
Operational Business Partners
We will build expertise that uses our strengths to support our business partners.
P
Purposeful, Flexible Services
We will remain current in our practices to expand flexible and people-centered services
L
Leading with Respect
We will attract, retain, and hold accountable exceptional and committed colleagues who reflect the diversity of our communities.
E
Effective Learning and Development Culture
We will develop, collaborate, and align faculty and staff to our university's strategic priorities.