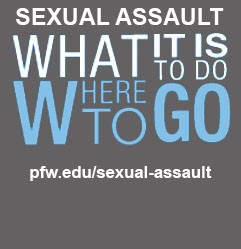 The purpose of this website is to provide awareness and education for students and parents concerning sexual assault — what it is, including the legal perspective; what to do if it happens; where to go for support; and much more. The Office of Institutional Equity on the Purdue University Fort Wayne campus works in conjunction with the Office of the Vice President for Ethics and Compliance on the Purdue West Lafayette campus, Campus Title IX officers, and Offices of the Dean of Students to provide this information to our campus community.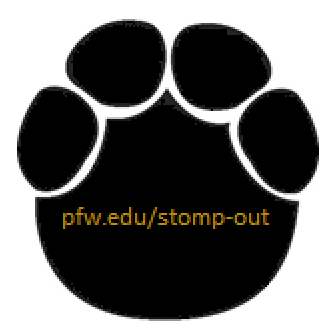 Purdue University Fort Wayne's policy regarding sexual assault
Purdue University Fort Wayne's policy regarding sexual assault can be found in the policy on Anti-Harassment (III.C.1).

The policy states that:
"Any act of sexual violence, including but not limited to rape, sexual assault, sexual battery and sexual coercion" is considered sexual harassment and is therefore unacceptable conduct that will not be tolerated.
All Purdue University Fort Wayne community members — faculty, staff and students — are encouraged to report and address any incidents of harassment.
Acts of retaliation against faculty, staff and students who report or file a complaint of harassment or who assist or participate in the investigation of a harassment complaint are strictly prohibited.
Any individual or group that violates the policy will be subject to disciplinary or remedial action, which can include termination of employment or expulsion.
Disciplinary action for violation of the harassment policy can be enhanced if the harassment is found to have been motivated by bias based on race, gender, religion, color, age, national origin or ancestry, genetic information or disability.
What is sexual assault?
Additional Resources