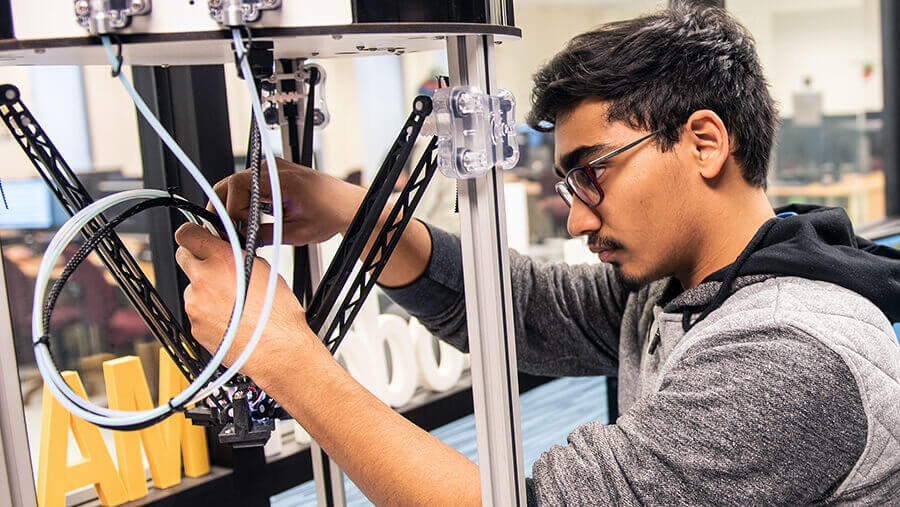 Find What Drives You
If you were offered conditional admission to Purdue Fort Wayne, you'll be advised through the Exploring General Studies program. It will help you acclimate to college life by providing a supportive environment. You'll receive information on a variety of college-specific topics, including class scheduling, academic planning, and campus resources, as well as tips for time management, study skills, and decision-making.
You'll need to attend advising and registration and New Student Orientation, where you'll find out more about the program and sign your participation agreement. As part of the program, you'll be assigned a focus major of study and will register for a 1-credit freshman success course for your first semester. You'll need to earn a C− or higher in that course, or retake it your second semester.
Program requirements also include regular meetings with your academic advisor, a minimum GPA of 2.0 each semester, and completion of at least 24 credits (dual credit, AP, and transfer credit included). Once you've met all requirements, you'll be released from the program and can declare your major.
Business and Leadership Focus
Choose the business and leadership focus if you have an interest in solving problems, inspiring others, advocating for social justice, and engaging in the community. You'll find many like-minded individuals in this focus who would describe themselves as goal oriented, innovative, organized, strategic, and motivated. If you choose to focus your studies on business and leadership, you'll hone your skills as a thoughtful decision maker and apply those skills to many of your balanced interests.
Education Focus
Choose the education focus if you have a passion for learning and making a difference. Many who choose this focus want to serve the public and have a wide-reaching, positive impact on the world. In education you'll prepare the way for the next generation and nurture the bright young minds that are the future of a community. An interest in this focus doesn't restrict you to working with children in a traditional classroom setting; there are ways within this focus to explore several options across different educational specialties.
Engineering and Science Focus
Do you enjoy solving problems and thinking analytically? You may want to choose the engineering and science focus to put your rational and theoretical mind to work. If you seek to understand things on a higher level—why things work the way they do, not simply how they work—and enjoy complex puzzles and games that involve strategy, then you'll relish the enjoyable challenge of applying scientific methods to solve problems. This is the focus for you if you have a focus on engineering and science, excel in math and data analysis, and have an interest in understanding more about the world in which we live.
Polytechnic Focus
If you like to work with your hands and to tinker with electronic devices, motorized vehicles, or computers, the polytechnic focus is for you. Learn practical technical skills and use science to make things better and more efficient. Your classmates will likely be as inquisitive as you are, and together you'll take part in directing the design, development, and management of projects ranging from manufacturing and electrical systems to databases and computer systems.
Social Science and Humanities Focus
Are you fascinated by human culture and society? Do you want to study the relationships among individuals? Then the social sciences and humanities focus is for you. Courses within this focus center on human-belief systems, culture and art, societies, relationships, and the ways in which we express ourselves and create meaning. If you've enjoyed reading articles or watching documentaries that analyze human nature and behavior, our social structures and governments, various means of communication and interaction, the establishment of human institutions, and how the mind works, then consider focusing your efforts on social science and humanities. Discover how many different disciplines work together to paint a broad picture of the world in which we live, then solve problems, analyze situations, data, and texts, and communicate clearly to find your place within that global picture.
Visual and Performing Arts Focus
Within the visual and performing arts focus, you'll find yourself surrounded by creative people who seek to understand, speak fluently, and express themselves in the language of art. Do you have a passion for painting, photography, playing music or composing, the principles of design, or telling stories onstage? Your classmates will too. Most within this focus appreciate and value art and artistic expression and wish to become more familiar with the major achievements throughout art history and today, and they appreciate the works and intentions of leading artists past and present. This focus provides an environment that encourages free and open inquiry, celebrates diversity, cultivates creativity, and inspires artistic collaboration.
Your Responsibility
You are responsible for satisfying the graduation requirements specified for your selected program or major. It should be a top priority to develop a thorough understanding of the required courses, policies, and procedures governing your academic career. All requests for exceptions or waivers to any requirement must be petitioned in writing and approved by the appropriate dean, director, or chair.
For more information, contact General Studies at 260-481-6828 or genstud@pfw.edu.