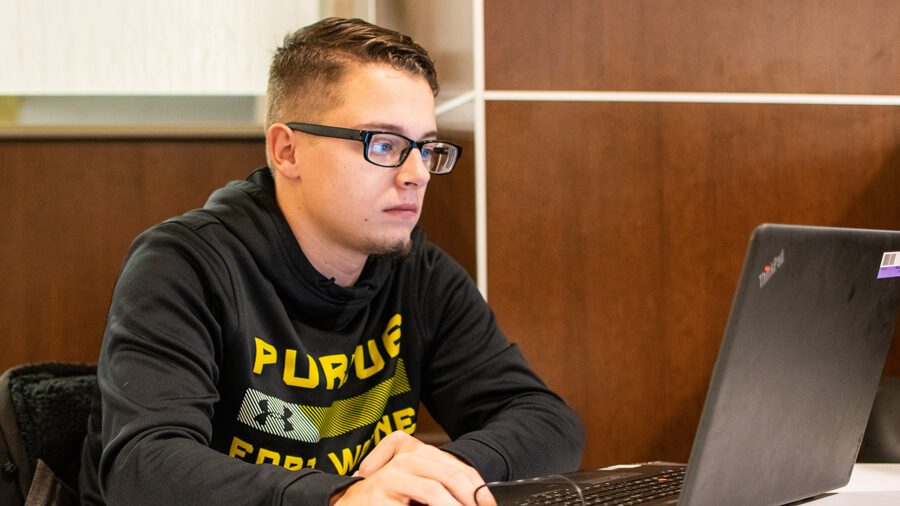 REPORTING AN INCIDENT
The Dean of Students Office is dedicated to ensuring all students' health, safety, and well-being. Additionally, we are responsible for enforcing the university's policies and procedures to ensure the safety of the campus community. We are here to provide guidance, resources, and direction to help students work through many types of challenges.

The following reporting forms for various types of incidents are available to the entire campus community. Please choose the form that most aligns with the situation you wish to report. If you have questions or concerns about which form to use, please contact the Dean of Students Office at 260-481-6601. When reporting a concern or situation, please keep in mind that the university may not guarantee the reporting party's confidentiality.
Reporting a COVID-19 Incident or Diagnosis
As members of the Purdue Fort Wayne community, we must all work together to protect the health and safety of every member of our campus and the greater Fort Wayne community to protect ourselves and others, by adhering to the expectations of the Student PPE Policy.
PPE Policy Violation- If a student refuses to follow the expectations outlined in the Student PPE Policy after you have educated and asked them, please submit the PPE Violation Form.
COVID- 19 Diagnosis or Exposure- If you, as the student, have recently tested positive, or been directly exposed to COVID-19, you should alert the university by filling out a CARE Referral Form. Additionally, if a student self-reports directly to a faculty or staff member, the faculty or staff member may fill out the same form on behalf of the student.
Reporting a Student of Concern
Students: If you or a fellow student are experiencing unexpected life events, a personal crisis, mental health struggles, or academic difficulties, the CARE team is here to help you along the way. Contact us through our CARE Referral Form.

Faculty & Staff: If you know of a student experiencing unexpected life events, a personal crisis, mental health struggles, or academic difficulties, please submit a concern through our CARE Referral Form.

If you are aware of a dangerous situation, dial 911 immediately. All referrals are reviewed only during regular business days and hours. CARE Referrals are not reviewed during weekends or holiday breaks.
Reporting Personal Misconduct
The Office of the Dean of Students is responsible for upholding the university's policies and procedures for investigating and resolving misconduct allegations. All students are expected to behave in accordance with local, state, and federal laws and with university rules, regulations, policies, and procedures. Instances of personal misconduct can occur in the classroom, on campus, at campus events, in Student Housing, and off-campus. To report an incident, please use our Incident Reporting Form.
Reporting Academic Misconduct
Academic integrity is vital to the mission of Purdue Fort Wayne. Academic dishonesty includes cheating and plagiarism but can involve other behavior and situations. Academic dishonesty can devalue an entire institution. Students are expected to uphold the university's core values regarding academic integrity. For more information, read our Academic Regulations for Academic Honesty.
All instances of academic misconduct must be reported to the Office of the Dean of Students. These forms may be used by instructors during the process:
Reporting Sexual Misconduct, Bias, Harassment, Retaliation, and Discrimination
Always remember, if you or someone you know is in an emergency situation, call 911.
We are committed to ensuring that all students are able to thrive in the safest and healthiest environment possible. We are here to support you in the event that you need to report an incident involving yourself or someone you know. You may report sexual misconduct, bias, harassment, and discrimination by completing a Office of Institutional Equity Incident Report.
If you would like to discuss your situation before submitting a form, please contact us at 260-481-6601 or dos@pfw.edu. We will assist you and provide you with information and resources. You also can learn more about Title IX and sexual-assault resources.
Student Complaint Procedures
Our office assists students who may have issues or complaints regarding faculty, staff or other students. If none of the above information fits what you need assistance with, please reach out to us at dos@pfw.edu.