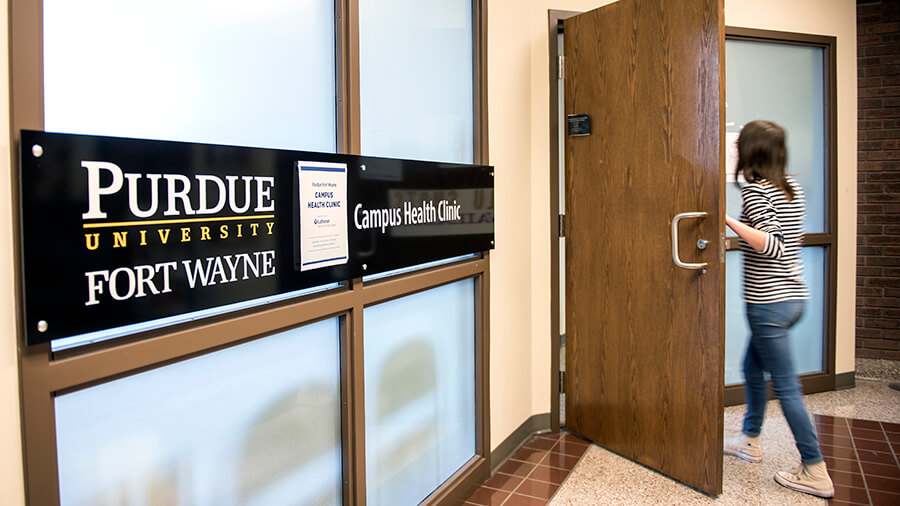 Counseling Services
Campus Health Clinic, Walb Union, Room 234
Students have access to a variety of short-term counseling services—for which there is no charge—to address their individual needs through the Student Assistance Program. These services are confidential and provided in a welcoming, comfortable setting regardless of a student's race, gender, religion, ethnicity, age, ability, or sexual orientation.
Counseling is available for a variety of concerns (but is not limited to this list):
Anger
Anxiety
Depression
Grief
Identity issues/confusion and transitions
Relationship problems
Roommate or intimate-partner concerns
Stress
Substance abuse
Thoughts of suicide, death, or hurting others
Violence—sexual assault, etc.
Eligibility
All currently enrolled Purdue Fort Wayne and Indiana University Fort Wayne students are eligible for our services on an individual, couple, or small-group basis. There is no charge.
About Us
The Bowen Center provides short-term onsite and tele-counseling services. Our onsite services are located at Purdue Fort Wayne in the Campus Health Clinic, Walb Union, Room 232.
Hours
Monday–Friday: 8:30 a.m.–4:30 p.m.
These hours are for August through May (except when the university is closed). There are limited summer hours.
Appointment Information
Call 800-342-5653 to make an appointment. You can request assistance through this online form or by sending a message to EAPSAP@bowencenter.org. Please indicate that you are a student of Purdue Fort Wayne or Indiana University Fort Wayne.
For immediate assistance and crisis intervention outside regular operating hours, call the Bowen Center's 24-hour helpline at 800-342-5653.
In the event of an emergency, call 911.
Note: Bowen Center recently changed records systems. If you are billed for SAP services received at the Campus Clinic please contact Ted Westerhof at ted.westerhof@bowencenter.org.
Confidentiality
Purdue Fort Wayne and the Bowen Center have a strong commitment to keeping the information you share confidential. This includes attendance and participation in counseling. We do not, and are not legally permitted to, discuss your information with anyone, including university officials, faculty members, parents/guardians, or outside agencies, without written authorization from you, the student.
Exceptions to this rule can be made when you or someone else is in imminent danger of serious harm, a child or other dependent is being abused, or a court order requires the release of records.
Referrals and Students of Concern
For nonemergency situations, including but not limited to the following, students, staff, faculty, or family members may submit a CARE (Communicate, Assess, Refer, Educate) team referral:
Unexpected life events
Personal crises
Mental-health struggles
Academic difficulties that can interfere with college success
To help a student in need, complete a CARE Referral Form. A member of the CARE team will provide outreach and ensure that the student is connected to resources and a team of professionals here to support them.