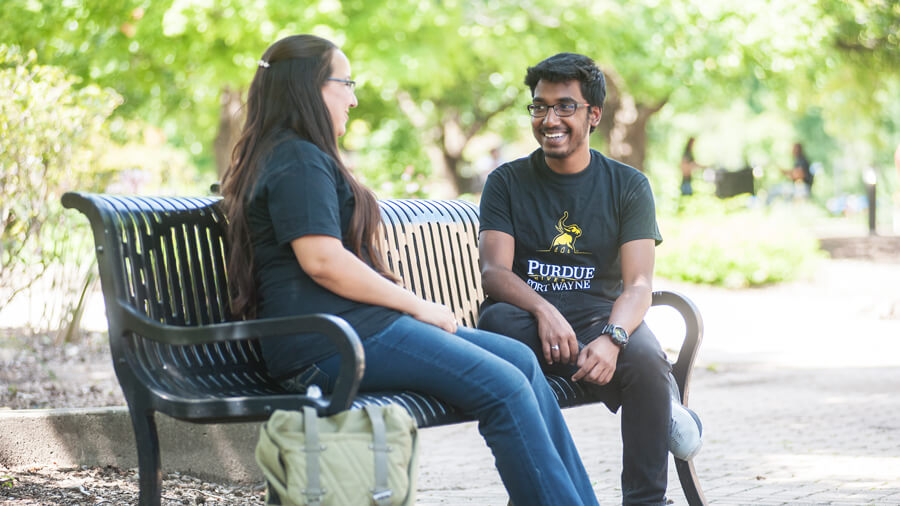 You Are Our Primary Responsibility
At the Office of the Dean of Students, we are focused on you, the student. Our caring staff, led by the Dean of Students, is responsible for implementing the Code of Student Rights, Responsibilities, and Conduct. We expect you to uphold this code. You are entitled to due process if there are academic or behavioral violations of this code. This educational process is designed to help you learn about how your choices impact yourself and others.
Academic Concerns
The Dean of Student's staff will help advise you about the student complaint process, grade appeals, and other concerns you may have about the university. Please feel free to reach out to us for support on these matters and more.
Personal Well-being
We also coordinate the CARE team, which is used to assist any students who are in need of extra support. The CARE team aims to assist those who may be in crisis or may simply need to receive guidance to become successful at Purdue Fort Wayne.
Get Support with Counseling
The Student Assistance Program is located on campus under the auspices of the Office of the Dean of Students. The program provides confidential counseling for all students currently enrolled at Purdue Fort Wayne, free of charge. We have licensed counselors who address developmental concerns and common issues that affect students, including anxiety, time management, depression, addiction/abuse, stress, and relationship issues. The program also offers group counseling, workshops, and educational and preventive initiatives on these and other issues.
Receive Assistance with Disabilities
Services for Students with Disabilities offers assistance for students with documented disabilities. If you are a student with a physical or psychological disability, you may register with the Services for Students with Disabilities office to receive services. If you become injured or have an extended illness and need temporary accommodations, please contact us so that we can work with you and your professor to address any concerns
Get Support with Childcare
The Learning Community offers childcare for infants through school-age children. They are committed to providing young children with a learning environment that models excellence in early-childhood education. They offer discounted hourly rates for faculty, staff, and Purdue Fort Wayne students.