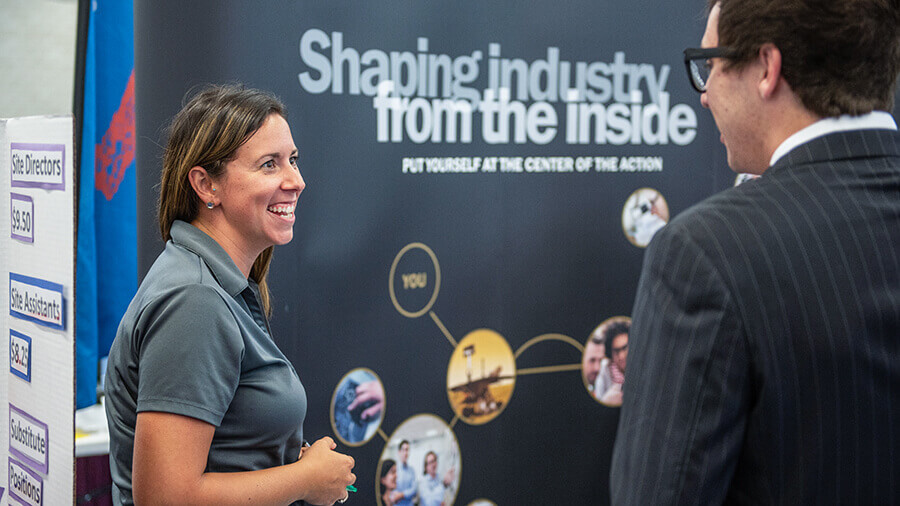 Find the Best Employees
Finding a qualified employee has never been easier. Career Services coordinates etiquette dinners, networking events, mock interview days, career fairs—all of which are ideal opportunities to partner with Purdue Fort Wayne and meet your next hire.
Our employer services are designed to reach the specific students or graduates that you seek. Our services, except for career fairs, are free for employers.
Career Fairs
Purdue Fort Wayne coordinates two career fairs throughout the year: the Mastodon Career and Internship Fair in September, for students and alumni seeking internships and full-time, degreed positions; and the Career Services Job and Internship Fair in either March or April, for students seeking summer, part-time, and internship opportunities.
Corporate Sponsorships
Our corporate sponsorships are your gateway to Purdue Fort Wayne classrooms. There are varying levels of sponsorships, with access to students and campus marketing options increasing with each level. Sponsorship at any level earns you recognition on our website and social media, and it helps us prepare our students for the workforce.
Externships
An externship program helps students gain additional information about their desired career field by spending two to five days observing and working with professionals, investigating careers, and networking with employers in their fields of interest.
To participate, contact Career Services at 260-481-0689 or careerservices@pfw.edu. You'll need to fill out the Registration for Externship Program with Career Services before the externship and the Evaluation of Externship Program afterward.
Mock Interview Day
Area employers are invited to participate in providing mock interviews for students. These interviews are held on campus in Career Services and last for about 45 minutes. Typically, employers are asked to donate three to four hours of their time in order to interview several students; however, the length of time can be adjusted to accommodate the employers' schedules.
National Career Development Month
November is National Career Development Month (NCDM), and to celebrate we offer multiple opportunities for networking within specific industries or career fields and for specific majors. The overall theme of NCDM is to gain experience, and we focus on educating students about the importance of internships, volunteering, and other related experiences. Every year we change the types of industries or career fields in order to reach out to different majors. Past employer participants have been asked to sit on a panel, which lasts about 90 minutes, with opportunities to network with students afterward. If you're interested in participating in NCDM, please contact us at 260-481-0689 or careerservices@pfw.edu.
Posting Jobs
Did you know that it's free to post local jobs on Handshake, Purdue Fort Wayne's student job board? Posting your job to Handshake—be it full-time, part-time, work-study, or an internship—gives you access to our highly qualified students and alumni. You'll need to create a free account, and all postings are reviewed to ensure that they meet our posting policies. Employers must meet the following standards to post on Handshake:
Must have an email address associated with your organization's website domain (not Gmail, Yahoo, Hotmail, etc.)
Must have a functioning website that clearly relates to your organization and contains helpful information about your company for the potential applicant; social media websites (Facebook pages, blogs, etc.) should not take the place of a company website
Must have an address that is easily identifiable as a place of business; addresses should not be a contact's personal residence
Must have a phone number (cannot be a mobile phone number)
Since Purdue Fort Wayne receives funds from the Job Location and Development Program, the US Department of Education requires the university to report certain statistics on currently enrolled students who obtain work through Career Services. To comply with federal regulations, you'll need to complete a placement survey.
If you have any questions regarding posting a job on Handshake, contact the Career Services assessment coordinator at 260-481-6628 or careerservices@pfw.edu.
Position Posting Requirements
The following types of positions are not accepted for posting on Handshake:
Unpaid, stipend, commission- or quota-based campus marketing, or canvasser or brand ambassador (door-to-door sales) internships or part-time positions
Application processes that ask students to use their social media profiles or release information associated with their social media profiles (e.g., number of followers or friends)
In-home, private, or independent childcare, nanny, or tutoring positions
Any 1099 independent-contractor positions other than those for full-time degreed employment
Positions or programs that charge a fee for participation
Employment outside the United States posted by a third party
Very limited exceptions apply to these position types. Positions may be denied for additional reasons deemed appropriate by Career Services staff.
Unpaid Internships
For employers posting unpaid internships, please consider the guidelines for unpaid interns (trainees) as specified by the US Fair Labor Standards Act.
We reject postings for unpaid internships with for-profit organizations that clearly provide employer benefits, including those involving campus or social media activities related to marketing goods or services to university students.
Confidentiality Policy
All materials received from our students (letters, résumés, transcripts, etc.) should be shared only with those persons at your firm involved in the hiring process. Any information acquired from profiles and/or résumés may not be redisclosed to any other employer, third party, or other individuals within an organization except for employment purposes. For more information, visit the US Department of Education website to learn more about the Family Educational Rights and Privacy Act (FERPA).
Offer Policy
We encourage all employers to provide a reasonable time frame for students to consider all job and internship opportunities and offers. We explicitly prohibit any practice that improperly influences or pressures students to accept offers, including the use of bonuses, the ability to choose a particular department, and exploding offers to induce early acceptances.
Nondiscrimination Policy Statement
Purdue University Fort Wayne values diversity and seeks talented students, faculty, and staff from diverse backgrounds. We do not discriminate on the basis of race, sex, sexual orientation, gender identity, religion, color, national or ethnic origin, age, disability, or status as a Vietnam-era veteran or disabled veteran in the administration of educational policies, programs, or activities; admissions policies; scholarship and loan awards; or athletics or other university-administered programs or employment. Our facilities and services are available only to recruiting organizations whose practices are consistent with this policy.
Selection by Citizenship or National Origin
Due to our diverse student population, you may encounter an international student on your interview schedule. US laws and regulations require certain treatment of international students. Screening candidates based on citizenship or national origin is prohibited. You may ask if an applicant is legally authorized to work in the United States and if the applicant will now or in the future require sponsorship for employment visa status. However, you may not use visa type as a screening tool to deny a qualified, employment-authorized candidate a position. The only exception is a position posting that specifically states a requirement for US citizenship due to grant funding requirements or other specific regulations. Employers must refrain from asking interview questions regarding a candidate's citizenship or national origin. For detailed information about pre-employment inquiries and citizenship, visit the US Equal Employment Opportunity Commission's website.
Alcohol and Recruiting Policy
We discourage serving alcohol to students during recruiting events. While it is not illegal to serve alcohol to students age 21 and older, it may put them in an uncomfortable position. Furthermore, please do not hold recruiting events in bars or clubs. These requests are in keeping with university policies and the policies of the National Association of Colleges and Employers.