For Immediate Release
April 09, 2019
Purdue University Fort Wayne Theatre Grad Living His Dream in New York City
Key Info
Chad Kennerk, 2009 theatre alumnus
Actors Studio Drama School M.F.A. candidate
Professional debut April 10–13
2019 ASDS Repertory Season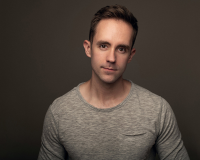 FORT WAYNE, Ind.—He's walking on the same stage that actors such as Marlon Brando, Sally Field, Al Pacino, and fellow Hoosiers James Dean and Steve McQueen have. And he's loving every minute of it.
He is Chad Kennerk, a 2009 graduate from Purdue University Fort Wayne with a Bachelor of Arts in theatre. Now, he's earning a Master of Fine Arts at the Actors Studio Drama School (ASDS) at Pace University in New York City.
"When I was in fourth grade, the high school needed kids for The King and I. That was my first experience on stage," recalls Kennerk. "I remember being really confused by how anxious and nervous the other kids were and thinking, 'Am I supposed to be feeling that way too?' Stepping out onto the stage was like magic."
While that magic hasn't lessened over the years, it's taken him 10 years to get where he is, with stops along the way working in financial services and fundraising, as well as waiting innumerable tables.
"I think my background will serve me well throughout my career. Actors in the industry today need a keen business sense as well," says Kennerk. "I'm also really interested in and fascinated by producing. I've received great advice from some amazing Broadway producers. I also want to explore developing a theatre company with other graduates from my program."
But before all that, he will make his professional debut in the 2019 Repertory Season of the ASDS. Kennerk will perform in The Breaking of Bread by William Watson from April 10 to 13 at the 3LD Art & Technology Center. The Repertory Season is designed to present graduating students to the public and professional world.
The public is invited to attend the productions that features the work students have been developing during their three years at ASDS. The season features a weekly series of scenes and one-act and full-length plays, some of them written by students, and all of them directed and performed by M.F.A. candidates. Tickets are free, but reservations are recommended. Last month, Kennerk also performed in an industry showcase for agents and casting directors.
What's next for the Woodburn, Indiana, native?
"The sky's the limit, as far as I'm concerned," says Kennerk. "I've always been one to say that I'd like to wear all the hats. I just want to create and try my hand at everything."
For additional information, contact Susan Alderman, at 260-481-6165 (office), 260-489-5349 (cell), or susan.alderman@pfw.edu.
###