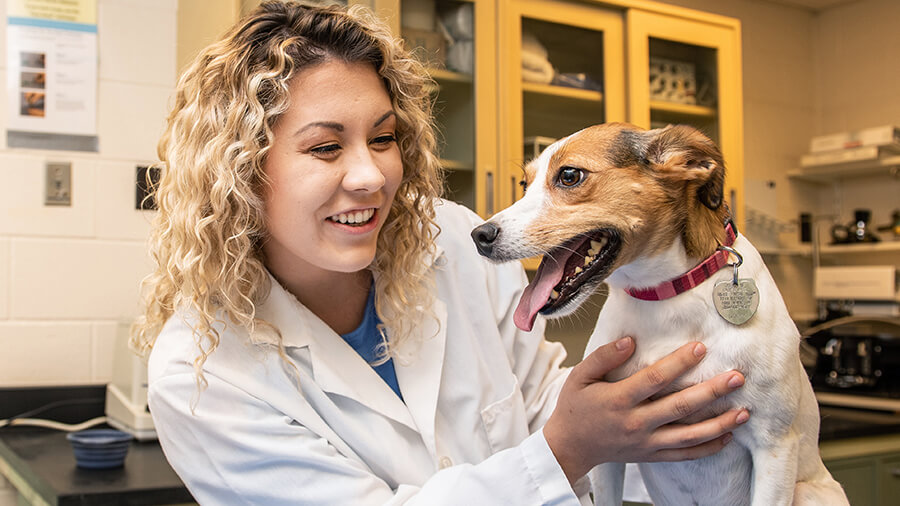 Preveterinary Medicine
The field of veterinary medicine is centered around the health and care of animals. This includes providing care for people's pets, monitoring the health of zoo inhabitants, participating in research, and the management of agricultural animals. A career as a veterinarian can be a good choice for those who like to help and protect animals, as well as those interested in discovering more about them and researching new ways to keep them healthy. In addition, it takes someone with strong communication and interpersonal skills, the ability to think critically and make quick decisions, manual dexterity, and, sometimes, a bit of business savvy. A bachelor's degree and preprofessional advising at Purdue Fort Wayne can help you gain much of the knowledge and abilities that can be carried into a professional program and a career in veterinary medicine.
Career Opportunities

A career as a practicing veterinarian requires a four-year doctor of veterinary medicine degree from an accredited institution. The American Veterinary Medical Association Council on Education bestows the highest accreditation a veterinarian program can earn. There are additional career opportunities beyond a private veterinarian office or pet hospital. Working in such areas as wildlife conservation, marine biology, agricultural animal care, public health, and medical research are also possibilities. In addition, there are a variety of specialties in the field of veterinary medicine that can be pursued with additional education.
Advising and Preparation

Being a preveterinary medicine student does not refer to your chosen undergraduate major. Rather, it indicates that, regardless of your major, you are preparing now to be ready to apply to a professional veterinary program in the future, possibly the Purdue University College of Veterinary Medicine in West Lafayette. Purdue's veterinary program is ranked as one of the premier veterinary programs in the United States. Like many other veterinary schools, there is no specific major that is required for admission into Purdue's College of Veterinary Medicine. However, there are specific courses, or prerequisites, to be completed prior to beginning a veterinary program. It is important for preveterinary students, or any student considering a professional degree, to meet with the preprofessional advisor as early as possible in their academic career to discuss recommended prerequisites, their undergraduate major, and an individualized academic plan. Once the preveterinary student has finalized their major and academic plan with their program advisor and the preprofessional advisor, a discipline-specific faculty member may also be assigned as a preveterinary mentor and guide.
Recommended and Required Coursework List
The following list includes some of the most common prerequisites for professional veterinary programs—and those included in the doctor of veterinary medicine program through Purdue's College of Veterinary Medicine (since each program is unique, this is not a guaranteed or exhaustive list for all schools):
Biology with lab (at least two semesters)
Chemistry with lab (at least two semesters)
Organic chemistry with lab (at least two semesters)
Physics with lab (at least two semesters)
Biochemistry
Microbiology with lab
Genetics
Humanities (three semesters)
Statistics
Communication
Composition
Recommended Experience Outside the Classroom
Hands-on experience and nonacademic activities play a large role in successful admission to a veterinary college or program. Spending time with animals and developing skills in handling different animals is important. Volunteering at a pet hospital, helping out at a farm, or job-shadowing a veterinarian are great ways to begin and can even be done while in high school. In addition, since many veterinarians rely on their ability to communicate, problem-solve, and lead, getting involved with student government or taking leadership positions in student organizations can also benefit preveterinary students.
Applying to Graduate or Professional School
The Veterinary Medical College Application Service (VMCAS) is a one-stop, central application process for most colleges of veterinary medicine that can be found through the Association of American Veterinary Medical Colleges (AAVMC). All required material is to be submitted through the VMCAS online application beginning in May of the preveterinary student's junior year, and closing the following September. It is important that the preveterinary student begin to work on their personal essay and request letters of recommendation immediately when the VMCAS application opens in January of their junior year, or sooner. Since some application requirements will differ between colleges and programs, it is the responsibility of the applicant to be sure that they submit everything requested by each school to which they apply. The Purdue Fort Wayne preprofessional advisor can assist with this process.
Resources
Here are some resources to aid in the process:
Contact Information
Schedule an appointment to take the next steps toward a career in veterinary medicine:
Marietta Frye
Academic Advisor for Preprofessional Studies
260-481-6749
[email protected]