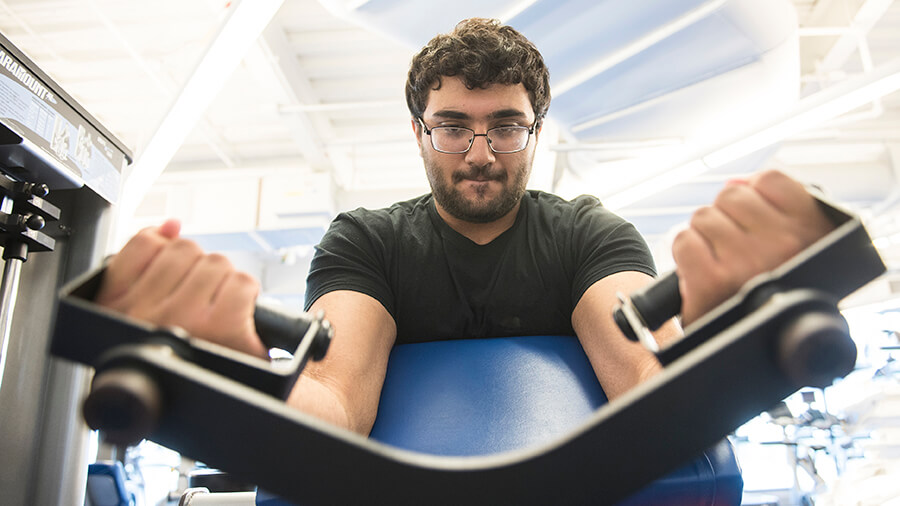 Pre–Physical Therapy
Physical therapy is an exciting field and a steadily growing part of healthcare in the United States. Physical therapists work with patients primarily to improve their mobility and decrease their pain. This can include working with athletes or people recovering from an accident, and often involves helping individuals overcome both physical and emotional obstacles to ultimately improve the quality of their lives. Although becoming a physical therapist can feel like a daunting task, with an average of three to four years of education after earning a bachelor's degree, it can lead to a fulfilling and rewarding career.
Career Opportunities
A doctor of physical therapy (DPT) degree, preferably from a program that is accredited by the Commission on Accreditation in Physical Therapy Education (CAPTE), is required to pursue a career as a physical therapist (PT). Indiana is fortunate to have several in-state DPT programs that are currently CAPTE accredited. Once the DPT is earned, a clinical residency in a specialized area is optional. In either case, before practicing, a PT must become licensed by passing the National Physical Therapy Examination (NPTE) and completing the appropriate state licensing requirements. The NPTE is a computer test administered by the Federation of State Boards of Physical Therapy and can be taken no more than three times in a 12-month period. Once licensed, a PT can work in a variety of healthcare environments. Hospitals, clinics, rehabilitation centers, and private practices are places where PTs are most in demand. However, a PT might also work in schools, sports areas, and even private homes.
Advising and Preparation

Being a pre–physical therapy (pre-PT) student at Purdue Fort Wayne does not refer to your chosen undergraduate major. It is an indication that you are preparing now for application to a DPT program in order to pursue a career as a licensed physical therapist (PT). It is common for pre-PT students to earn a bachelor's degree in a health or physical science major. However, it is completion of the required prerequisite coursework that is essential for applying to a program that is accredited by CAPTE. It is important for pre-PT students, or any student considering a professional degree, to meet with their preprofessional advisor as early as possible in their academic career to discuss DPT program prerequisites, their undergraduate major, and an individualized academic plan. Once the pre-PT student has finalized their major and academic plan with their program advisor and the preprofessional advisor, a discipline-specific faculty member can also be assigned as a mentor and guide.
Recommended and Required Coursework List
The following list includes some of the most common prerequisites for DPT programs in the United States (since there is a great deal of difference between programs, this is not a guaranteed or exhaustive list for all schools; pre-PT students are advised to thoroughly investigate the requirements of each potential program):
Biology with labs
Anatomy and physiology with labs
General chemistry with labs
Physics with labs
Medical terminology
Statistics
Psychology
English composition
Communication
Recommended Experience Outside the Classroom
Job-shadowing a physical therapist and gaining clinical experience through work or volunteering is crucial for a pre-PT student. Many DPT programs have a set number of observation hours as a requirement for each applicant. In addition, observing and working with a licensed physical therapist can provide pre-PT students the opportunity to see firsthand what a career as a physical therapist is like so that they can make an informed decision about their own path. Pre-PT students are also encouraged to get involved on campus and seek out leadership roles when possible. Student government, tutoring, and even being a campus tour guide can all help a pre-PT student develop communication and interpersonal relationship skills. These skills will be invaluable in developing trust and rapport with physical therapy patients.
Applying to Professional School
Most DPT programs that are accredited by the CAPTE require applications to be submitted through the Physical Therapist Centralized Application Service. Graduate Record Examination scores and as many as four good letters of recommendation are also common application requirements. Since there are varying application dates, multiple deadlines, and some rolling admissions for different programs, it is important to know the specific dates and requirements for each school you are applying to and to apply early. It takes four to five weeks to process an application once all material has been received. Also, be aware of times DPT programs may move from soft deadline to a firm deadline. Your preprofessional advisor can help you.
Resources
Here are some resources to aid in the process:
Contact Information
Schedule an appointment to take the next steps toward a career in physical therapy:
Marietta Frye
Academic Advisor for Preprofessional Studies
260-481-6749
[email protected]