Department Decorating Contest
Open to all university departments and offices!
Department registration is now open!

As part of the Homecoming annual celebration, departments are invited to decorate their offices to help turn the campus blue! Three alumni chosen from Alumni Relations will be judging on 02-21-2018 using the following criteria:
30 points: Theme and Homecoming logo
30 points: The university and Fort Wayne Mastodon logo
25 points: General theme (Don of a New Era)
25 points: The use of (men's and women's) basketball players and coaches (remember it's a double header!)
15 points: Sound or video
15 points: Incorporating your office staff into the decorating
15 points: Highlight alumni from your program or athletic alumni
• 10 points: Interactive decorations
10 points: Mastodon Alumni Association Logo
TOTAL: 175 points
BONUS: 50 points for Homemade/Handmade Items
REMEMBER!
We have two trophies! One for a department with more than 15 employees (large department) and one for a department with less than 14 employees (small department). We go by the number of total employees, not just the ones that decorate!
Please register by January 22 if you are planning on getting free shirts. Otherwise, you can enter until February 5.
*Employees are reminded that while they are encouraged to support Homecoming by decorating hallways, offices, etc., the use of University funds to purchase decorations and decorating materials should be used on a limited basis. Be creative and inventive, particularly in these tight budget times. Please be very prudent in your expenditures.
Questions about department decorating should be directed to Victoria Sarjeant in Alumni Relations at 260.481.0241 / victoria.sarjeant@ipfw.edu


Downloadable Artwork: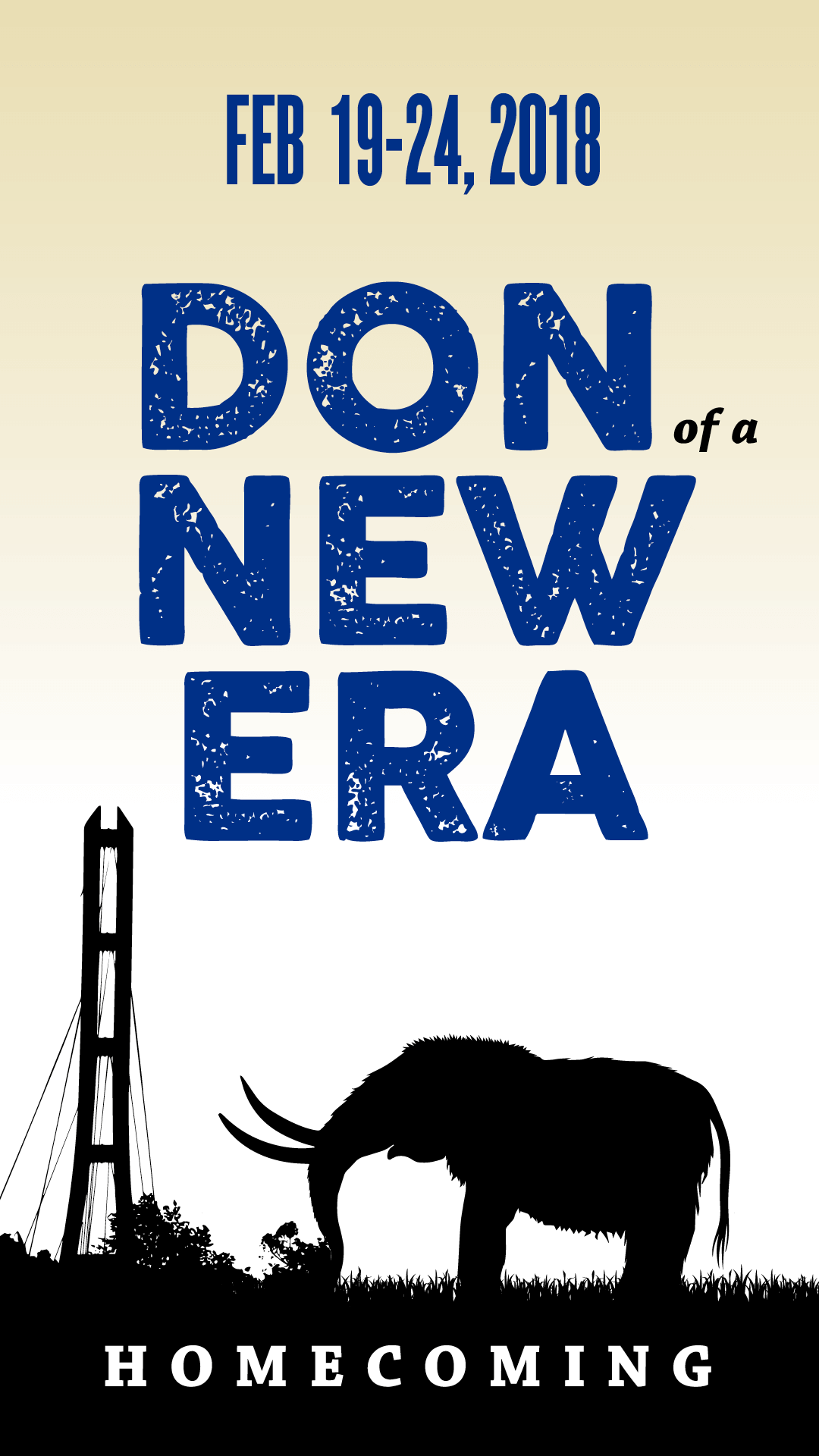 Former Winning Departments:
2016 - Large Group
2016 Campus Safety - Small Group
2015 Student Housing - Large Group
2015 Campus Safety - Small Group
2013 ITS - Large Group
2013 Campus Safety - Small Group
2012 Mastodon Advising Center - Large Group
2012 Education - Small Group
2011 ITS - Large Group
2011 Education - Small Group
2010 Education - Small Group
2010 Continuing Studies - Large Group
2009 Nursing - Small Group
2009 ITS - Large Group
2008 Student Housing - Small Group
2008 Nursing - Large Group
2007 Mastodon Advising Center - Small Group
2007 URC Publications - Large Group
For any questions on the Deparmtent Decorating Contest, please contact Victoria Sarjeant in Alumni Relations at victoria.sarjeant@ipfw.edu or 260-481-0241.
Student Orgs. - Spirit Sheet Sign Contest
Open to all officially recognized student organizations
Your student organization can earn big bucks by participating in the Spirit Sheet Sign Contest. The top three Spirit Sheets earn prize money for your student organization.

To register for the contest and receive your ready-to-decorate sheet, contact Jason Anderson in the Student Life and Leadership Office, Room 210.
Decorate your sheet to promote your organization, IPFW School Spirit, and this year's Homecoming theme, "Don of a New Era"
Decorating supplies are available to you courtesy of IPSGA/SAB and Student Life and Leadership and may be checked out. Student organizations will present their sheets at the Pre-game Reception on Saturday at the Gates Center Fieldhouse and the winners will be announced at the game.
Guidelines for Sheet Signs:
Sheets must not contain any graphic images, offensive language, or glitter. If sheets contain any of the above, they will be automatically disqualified.
If you are in the top three, two representatives from your student organization must be present at the Homecoming Celebration (2/24 @ 5:30pm at the Gates Fieldhouse) in order to display your sheet/sign and winners will be announced at halftime.

Sheets will be judged by the following categories with up to 10 points for each, total of 40 points possible.
i. Representation of Student Organization
ii. Representation of IPFW logo and mascot
iii. Use of Homecoming Theme "Don of a New Era"
iv. Overall Creativity

First place = $300, second place = $200, third place = $100
Homecoming theme is "Don of a New Era"
Glitter, confetti, sand, or any other materials that may fall or drip from sheets is prohibited.
If utilizing university space and supplies make sure the SORC (Walb 214) in Walb Union is available before you decorate, we will have a sign-up sheet available.
Please cover all tables/floor BEFORE any painting is done.
Supplies cannot leave the SORC at any time and all brushes must be washed out and paints put away.
You may use your own supplies and decorate off campus at your leisure.
The name of your student organization must be on the sheet somewhere.
Organizations are responsible for their sheet/sign during the drying phase and they MUST be completely dry before they are turned in.
The deadline to submit your sheet is Monday, February 12th by 5:00pm in the Student Life and Leadership Office, WU210. If possible, late submissions will be accepted but will be docked 5 points.
Sheets will be hung in Gates Sports Center February 13th and will be judged during Homecoming Week.
Only one sheet will be given to each requesting organization. Adding or use of additional sheets other than the one provided will result in immediate disqualification.
You are not allowed to use decorated sheets from previous years of Homecoming.
Deadlines:
November 23, 2015 - Sheets will be available for Student Orgs to pick up.
November 23, 2015 - February 8, 2016 Space available in the SORC for decorating
February 12, 2017 Sheets are due for judging by 5:00 p.m.
Winners announced at the tailgate party on Saturday, February 24, 2018
For any questions on the Student Org. Spirit Sheet Contest Signs, please contact Jason Anderson at 260-481-6337 or via email andersjs@ipfw.edu