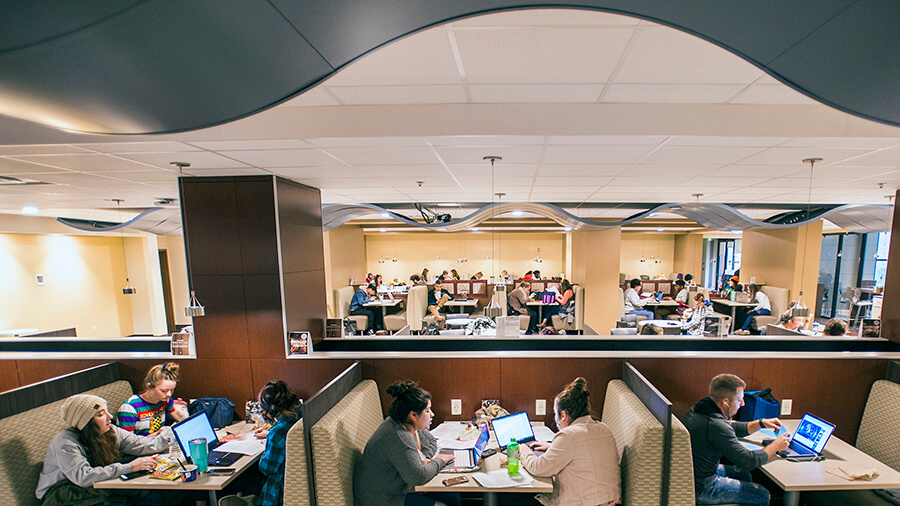 When you have the Purdue Fort Wayne Meal Plan, you can skip the meal prep and make it to class on time. You'll never have to worry about losing your parking spot; visit our locations in Walb Union and Kettler Hall for a quick bite instead of leaving campus. Visit the salad bar or pick out an entrée and a couple of sides. In a hurry? Grab and go with a sandwich, fries, and fountain-drink combo.
Delicious Menu Options
Choose from a light, healthy snack or a hearty meal. Your options include salads, veggie wraps, burgers, tacos, pizza, and so much more. Craving breakfast food? Try biscuits and gravy or a fresh-baked bagel from Einstein Bros. Bagels.
A meal plan includes a deluxe breakfast sandwich, hash browns, fruit, and a beverage. Or enjoy an entrée, two sides, and a fountain drink for lunch and dinner. Getting your meals is as easy as swiping your Mastodon ID Card.
Purchasing Meal Plan
Pick your meal plan based on how many meals you'll need for the academic year. The more meals you need, the more you'll save—our bulk meal plans reduce the price of a single meal based on how many meals you decide on. Check out the savings we can offer you:
Plan #1: 20 meals for $142 ($3 savings)
Plan #2: 40 meals for $276 ($14 savings)
Plan #3: 60 meals for $392 ($43 savings)
Plan #4: 80 meals for $493 ($87 savings)
How to Purchase:
Log into go.pfw.edu
On the left-hand side of the screen, click on the tab labeled "Billing & Financial Aid"
Under the "Bursar Student Account Information" section click on "Click here to see your bill"
This will bring you to the home screen of the Bursar's Office. On the yellow banner at the top of the screen click on the tab labeled "Make Payment"
You should be directed towards a page with the title "Account Payment." Do NOT click any option under "Select Payment Option". Instead, leave this section unchecked.
Select your choice of meal plans that you would like to purchase. The total payment will appear at the bottom of the screen. Once finished, select the green "continue" button.
This screen will show your total amount as well as allowing you to select a method of payment
From this point, follow the prompts to enter your payment information, you should receive a confirmation page, and a receipt. If for some reason you do not receive this confirmation and believe for the process to have been successful, please email

[email protected]

Your meal plan should be on your account and ready to use in 1-2 business days using your Mastodon ID Card
Academic Year-round Use
Meal plans start the first day of the fall semester and end the last day of the spring semester.
You are unable to carry forward meal swipes from the spring semester to the fall semester.
Multiple Dining Locations
You can use your meal swipes at any of our locations—choose the one that's most convenient to you:
Don's at Walb, located in Walb Student Union on the ground floor;
Einstein Bros. Bagels, located in Kettler Hall on the ground floor;
Java Spot, located in Walb Student Union on the first floor.
Refund Policy
If a meal plan refund is requested, it will be issued based on the schedule below, for all remaining meals.
100% refund Week 1 (days 1-7)
60% refund Week 2 (days 8-14)
40% refund Week 3 (days 15-21)
20% refund Week 4 (days 22-28)
0% refund Thereafter
All refund requests 4 weeks after purchase, will be considered on a case-by-case basis and approved by Associate Vice Chancellor of Facilities Management. If you would like to request a refund please use the meal plan refund request form.