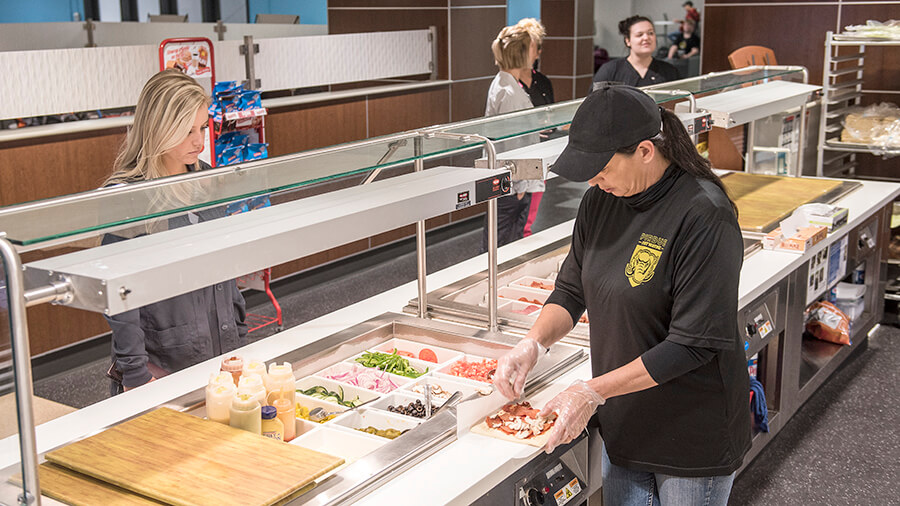 Everything You Need to Know
You ask. We answer. Find what you need to know about Purdue Fort Wayne dining and catering.
Dining
Find your answers:
Catering
Find what you're looking for:
Where is on-campus dining at Purdue Fort Wayne?
Check out Dining on Campus to see dining locations, hours, and menus.
Can I use my Mastodon card to purchase food at campus dining locations?
Yes. You can buy meal plans or add money to your personal Don Dollars account online at goPFW to pay for meals. Aladdin offers a 5 percent discount when you use your Don Dollars to buy food or drinks from any of its three campus locations. This does not include catering purchases. Check out Mastodon Card to learn more.
What is considered catering?
Any use of university funds to purchase food and beverages.
What is considered university funds?
University funds include, but are not limited to, the following:
General operating budget
Student service fees
Any other gifts to the university
Any questions regarding your university funds should be directed to your business manager.
What is considered on campus?
All buildings and property that are operated or maintained by Purdue Fort Wayne are on-campus structures. Properties owned by the university or the Purdue Fort Wayne Foundation that are leased to outside entities are not on campus. Such properties include the following:
Holiday Inn at Purdue Fort Wayne and the Coliseum
CVS strip mall,

located near Student Housing on the Waterfield Campus

The Plex
Northeast Indiana Innovation Center
The Learning Community
When should I use CaterTrax through Aladdin for catering?
We encourage you to use Aladdin for all on-campus events. Use CaterTrax whenever researching or placing catering orders for the university.
Pepsi has the exclusive rights on cold beverages. Aladdin can provide bottles, cans, or prepackaged Pepsi products, but you can still purchase directly from Pepsi or utilize Pepsi's exception on certain bottled waters. Learn more about purchasing and catering rights.
How do I place a catering order with Aladdin?
Visit our site about catering and CaterTrax.
Can the department keep leftover food from their catering event?
With health department codes, there may be situations where this is not possible. Aladdin will be happy to work with you on a case-by-case basis on the best way to handle leftovers.
Do we tip Aladdin servers?
No. Aladdin staff will not accept tips.
How do I get an account to enter catering orders online with Aladdin?
Email the following information to [email protected] and copy your business manager:
Name
Email address
Department
Office phone number
Building and room number
Once your business manager approves, purchasing will submit this information to Aladdin. You will receive an email from Aladdin with your account information and instructions.
When can I order catering online?
Once you have received your account information from Aladdin, follow the instructions on using the system.
When should I place my catering order?
It would be nice to have as much notice as possible with a minimum 4–5 days in advance to allow time for product orders. However, things happen and Aladdin will do everything possible to deliver an event that exceeds your expectations.
How will I be billed for my catered event?
After the Aladdin catered event occurs, the requester will receive an email from Elior AR with the catering invoice attached. This invoice should be paid promptly via ZV60. Questions on invoice charges should be directed to Benjamin Grubisich, [email protected]. Contact your business office with any questions on the ZV60 payment process.
Can I still purchase cold beverages directly from Pepsi?
Yes. If you don't already have a Pepsi account, email [email protected] to set up an account.
Can I still purchase store-branded water (e.g., Kroger or Walmart)?
Yes, in accordance with the agreement with Pepsi. Learn more about this agreement and exclusive vendor rights.