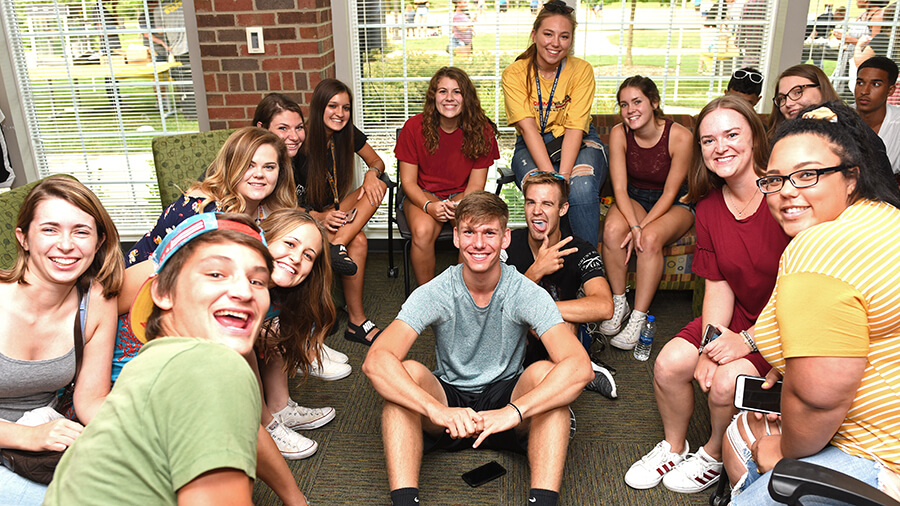 Living in Student Housing
We want to make your move-in day—and life in student housing—as easy as possible. Prepare for your move with all the supplies you need. Get your application and leasing contracts
Apartment Details
You should prepare to bring linens, cooking supplies, and toiletries. We will include a complete list of suggested items in your room-assignment packet.
Each bedroom includes a dresser, an extra-long full-size bed (most students use queen-size sheets), a desk, a desk chair, and a nightstand. The living room includes an entertainment center, a coffee table, and an end table.
Here is your address:
4010 W. Housing Drive
Building, Room Number, and Bed Space (example: A 202 C)
Fort Wayne, IN 46815
Applying/Lease
See important dates for application, contract, and other deadlines.
Individual lease means that you are responsible for your space only. If your roommate does not pay their installments, that has no effect on your status. If your roommate leaves the apartment for any reason, you are not responsible for their portion of rent.
Roommates
The student housing portal provides the opportunity for students to match and choose to live together. Roommate information is limited, but is used to gather details to make the best match possible for all residents. The application process is set up to suggest best matches, but can also be used to search for specific individuals or by specific lifestyle question. Once matches are made, contact information can be provided within the portal. Messages can also be sent within the system.
Each room is required to submit a roommate agreement within 10 days of moving in together. Once completed, residents should abide by the group decisions that have been made. If problems should arise, we have a well-established roommate mediation process that is 90 percent effective in resolving conflict. Through peer to peer resolution methods, mediation can assist with moving forward and making successful living situations.
Guests
You may have guests if you have written permission from your roommates. Guests may not stay longer than 72 hours. All guests must be registered at the Cole Commons front desk before 8 p.m. each night and have a guest parking permit if necessary. All guests not registered by 1 a.m. must leave student housing. Residents are responsible for their guests at all times and must escort them at all times. At no time shall a guest be left unattended. Students found in violation of the guest policy will face disciplinary actions, including fines up to $100. Roommates in violation of the guest policy may also face disciplinary actions and fines.
Payments
Installments are always due the Friday before classes begin. You may pay online. Also, you can set up automatic payments with your bank. If you would like a payment plan, contact the Bursar.
It is your responsibility to ensure that housing installments are paid on time. Please be sure to check with Financial Aid often, and communicate any discrepancies with the student housing bookkeeping office. If you are using financial aid, please give us a call at 260-481-4180 so that we can assess your specific situation.