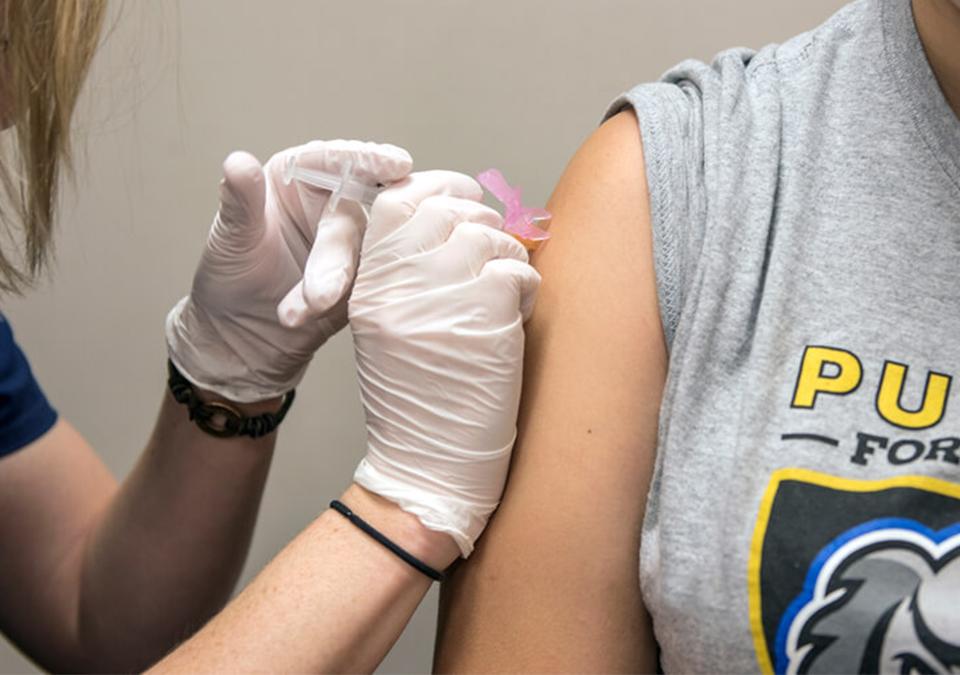 Health and Wellness
October 3, 2023
Employee Flu Shot Clinic: One-to-One Health and CHL
Campus Health Clinic
Seasonal flu shots, which support the physical health pillar of the Healthy Boiler Program, are provided annually at no charge to all benefits-eligible employees, spouses and dependents, and retirees on the Purdue Medical Plan. 
Flu shots will be administered on our campus by One-to-One Health from the West Lafayette Center for Healthy Living as our Campus Health Clinic is currently in transition. Here are the guidelines for this flu shot clinic only: 
All benefits-eligible Purdue faculty and staff, covered and not covered on the Purdue Medical plan are eligible.
Spouses, dependents age 18 and over, and retirees covered on the Purdue Medical plan are eligible.
Everyone must bring their Purdue ID with them the day of the flu shot. 
IU faculty and staff who wish to receive a flu shot may email

[email protected]

in advance to RSVP for their shot. Please bring your IU ID the day of the shot.
Medicare is not accepted.
Please refer to the information below for details about the type of flu shot being offered, other locations for flu shots, day of shot guidelines, and who to contact with questions.
The Campus Health Clinic is located in Walb Union, Room 234.
Physical health pillar of Wellness
Flu Shots Keep the Herd Healthy
Being proactive by receiving your flu shot before flu season hits is highly recommended in order to keep yourself healthy as well as the Mastodon community. Flu Shot Clinics for students, faculty, and staff are conveniently being offered on Purdue campuses including PFW. 
This flu shot clinic will offer the Flubok quadrivalent vaccine, which is designed to protect against four different flu viruses; two influenza A viruses and two influenza B viruses. It is approved for use in ages 18 years and older. It is preservative and egg-free.
We will not have the high dose flu shot recommended for people age 65 and older nor will we have the vaccine for children younger than 18. Please check with your primary care physician or in-network pharmacies for these flu shot options.
On the day of the flu shot, you must:
Not be sick or have a fever.
Bring your Purdue/IU ID.
Wear clothing, such as a short-sleeved top, to make it easier to be vaccinated in your upper arm.
You may receive a flu shot as a preventive care benefit from your primary care provider and local in-network pharmacies.
Questions regarding the flu shot clinic can be directed to: