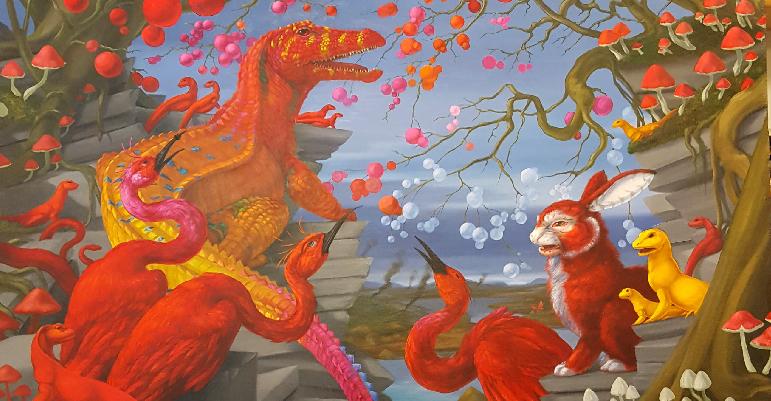 Art Exhibition
February 1, 2023
Deep Well by Laurie Hogin
Visual Arts Gallery
Known for her political allegory and social commentary works, in painting, sculpture, and installation, Laurie Hogin reworks the tropes and exacting styles of Neoclassical art in order to critique, parody, or call attention to contemporary and historical mythologies, systems of power, and the human experience. "Deep Well" includes works that engage with image as metaphor for topics from environmental poisoning to human tendencies like greed, love, desire, addiction, and human kinship with other humans and to the natural world. The exhibit will feature some new, experimental, installation-based works where the meaning of the metaphor is latent, and the activity of making the work resembles play. She has exhibited nationally and internationally, and is a Professor of the Studio Art Program at the University of Illinois at Urbana–Champaign.
Exhibition Opening and Artist Talk: Thursday, Feb. 2        4:30–6:30 p.m.
Admission is free for everyone
Gallery hours are 8 a.m. – 9 p.m. weekdays and 10 a.m. – 5 p.m. weekends. For information about the Department of Art and Design visit www.pfw.edu/art-design or call 260-481-6709.
https://www.pfw.edu/visual-performing-arts/art-design