Assistant Professor, Art History
Office: VA 122
Phone: 260-481-6705
Email: codys@ipfw.edu
Steven J. Cody is a scholar of Italian art and culture from the fifteenth and sixteenth centuries.
He holds a B.A. (2007) in art history and philosophy from Roanoke College, as well as a M.A. (2009) and a Ph.D. (2015) in art history from the University of Maryland, College Park. His scholarly work has been recognized by organizations such as the Council of European Studies, which awarded him a prestigious Andrew W. Mellon fellowship, and by several academic journals. In his current book project, Steven reconsiders the altarpieces of Andrea del Sarto, an elusive and somewhat neglected painter from Renaissance Florence. The nature of this project casts considerable light on the ways in which religious paintings participate in cultural discourses of conversion, renewal, and reform.
As a professor in the Department of Fine Arts at IPFW, Steven offers a range of courses that cover all periods in the history of art. In each of his classes, the visual arts emerge as an important context in which a wide array of human experiences find tangible expression.
For more information on Steven Cody's work, please visit the following link: https://ipfw.academia.edu/StevenCody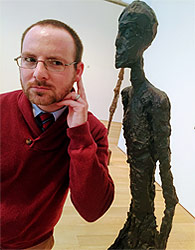 Steven J. Cody