Private Music Instruction
CAA Offers Private Music Instruction for Children and Adults
Have you ever wanted to take voice lessons or play the piano, trumpet, violin, guitar or another instrument? Singing and playing an instrument are skills that can provide joy and enrichment for a lifetime. The Community Arts Academy (CAA) can help you with that dream by matching you with a professional instructor who will teach at your appropriate level. CAA teachers ask the right questions and start with exercises that help gauge the student's interests, musical capabilities and goals for private music lessons.
The Community Arts Academy has been providing instruction to children of all ages, as well as adults, for decades. All lessons take place on the campus of Purdue University Fort Wayne in the Rhinehart Music Center, a state-of-the-art music facility with teaching studios, rehearsal spaces, and practice rooms that are acoustically isolated and calibrated. Lessons in the following areas are offered regularly, but if there's an instrument not listed, please call and we will find an instructor! Please contact Director Emily Arata Grillo at egrillo@pfw.edu or call 260-481-6059 for more information or to register. For biographical information about most of our private music instructors, please visit this page and click on the Music Instructors tab.
For information about scholarships and instrument loans from the Fort Wayne Philharmonic Friends, please click here.
Clarinet, Flute, Oboe, Saxophone and Other Woodwinds
Woodwind instruments include the clarinet, flute, piccolo, oboe, English horn, bassoon and saxophone. A student with a good mastery of note reading as well as the major and minor scales will be prepared to play most band repertoire. Classical and jazz music tend to require more time, both because of the technical demands made on the player, and because of the amount of theory that must be learned. Woodwinds are some of the most popular instruments for beginning musicians. It is relatively easy to get started on a woodwind instrument, and they have a pleasant, soothing sound when played well.
Guitar
The guitar is one of the most popular instruments to learn how to play. It can be used to play almost any type of music, from classical to rock to folk to jazz to blues. Learning how to play the guitar makes possible a huge variety of collaborations with other musicians, from forming a band to playing along to favorite tunes at home. A student can start on any type of guitar, so it is generally useful to pick the type that corresponds to the type of music in which the student is most interested. Within a year or so the average student can reach an intermediate level and has learned enough to play and improvise in several styles. Moving from intermediate to advanced may take longer, especially in jazz and classical guitar, where theory and improvisation play a large part.
Music Composition and Music Theory
Music composition is the creation of new songs by combining melody, lyrics, rhythm and harmony. Many musicians explore this area of self-expression, either on its own or to deepen their expression when playing their primary instrument. Music theory is the study of the elements of basic musicianship; intervals, scales, triads, rhythm and meter, music nomenclature, rudiments of two-part writing and diatonic harmony. Instruction through the CAA can help students acquire some fundamental skills and concepts.
Percussion
Drums are used in almost every kind of music. They form the rhythmic backbone of a band or orchestra, and also solo in many styles. The drums are extremely versatile, and a good drummer is in high demand for almost every style of music. Percussion instruments also include the marimba and xylophone.
Piano
The CAA has many piano instructors who teach at a variety of levels. Piano lessons can be started at almost any age, and how quickly the student progresses will depend on age and previous musical experience. Very young students might stay at a "beginner" level for several years, as the physical coordination and cognitive skills required to play the piano are still developing. For an older child or adult, most of the basic skills needed have developed already and simply need to be trained, so progress will happen more quickly. Click here to download the CAA Piano Program Handbook for more details.
Trumpet, Trombone, French Horn and Other Brass
The different types of brass instruments include most modern instruments, such as the trumpet, trombone, French horn, euphonium, tuba and cornet. The main styles of music that utilize brass instruments are classical, jazz and band music. Depending on the style and the instrument, a student can reach an intermediate level in a year or so. Brass instruments are versatile and in high demand for orchestras and bands.
Violin, Viola, Cello and Other Strings
The CAA has long been known as a source of instruction for violin and other strings. Several extremely experienced teachers form the backbone of our program that includes private and group lessons and culminates in a vibrant summer strings camp. The most common string instruments are the violin, viola, cello, double bass (sometimes called the contrabass) and harp. String instruments can be very challenging at first, but time and practice will pay off. How quickly a student advances will depend on age, previous musical experience, and how much time they can dedicate to practicing. Very young children sometimes progress more slowly at first, because the coordination and fine motor skills required are still developing. For an older child or adult, it takes up to two or three years to reach an intermediate stage and several more to become advanced.
Voice
Learning to sing can be an immensely rewarding experience. Unlike other instruments, the voice is a part of you, and learning to use it well opens up virtually limitless possibilities for self-expression. The CAA offers vocal instruction to students age 13 and above from a variety of teachers. Voice lessons for younger singers will concentrate more on depth of expression and healthy singing, and less on expanding the vocal range or difficult repertoire. It's very common for singers to start lessons later than other instrumentalists, but progress tends to be fast, especially in the beginning.
For students under the age of 13, we recommend contacting the Fort Wayne Children's Choir.
About the Camp
Accreditation
The Purdue University Fort Wayne College of Visual and Performing Arts, including the Community Arts Academy, is fully accredited by all of its discipline-specific accrediting agencies: the National Association of Schools of Art and Design (NASAD), the National Association of Schools of Music (NASM), and the National Association of Schools of Theatre (NAST).
Refund Policy
A full refund is given when the university cancels a course or when the Community Arts Academy receives notification of withdrawal from the registrant before the third business day prior to the start of the class. No refunds will be given after class or private instruction begins. Course cancellations may occur due to low registration. Course offerings and fees may be subject to change without notice.
Parental Supervision Statement
Purdue University Fort Wayne is a public institution of higher education that offers a wide variety of classes, to a wide range of students from differing backgrounds, including adults and children in grades pre-K – 12. While the Purdue Fort Wayne College of Visual and Performing Arts is committed to ensuring the safety and well-being of all students, parents are reminded that it is their responsibility to supervise minors when they are on campus and not in the classroom. Before and after class, our teachers cannot take the place of a parent and assume responsibility for unsupervised children.
In case of an emergency please contact the Purdue Fort Wayne University Police at 481-6827.
Personal Enrichment Classes for Adults
The Community Arts Academy offers regular classes for kids in pre-K through grade 12 in art, dance, music and theatre, but if you are an adult interested in personal enrichment in these areas, please visit the Purdue Fort Wayne Division of Continuing Studies to see what types of classes they are offering.
Purdue University West Lafayette Procedures for Programs Involving Minors
The Purdue Fort Wayne Community Arts Academy abides by the Purdue University operating procedures and policy outlined in the Operating Procedures for Programs Involving Minors that went into effect January 1, 2015. This policy and registration form may be viewed here:
Online Payments for Private Music Instruction Available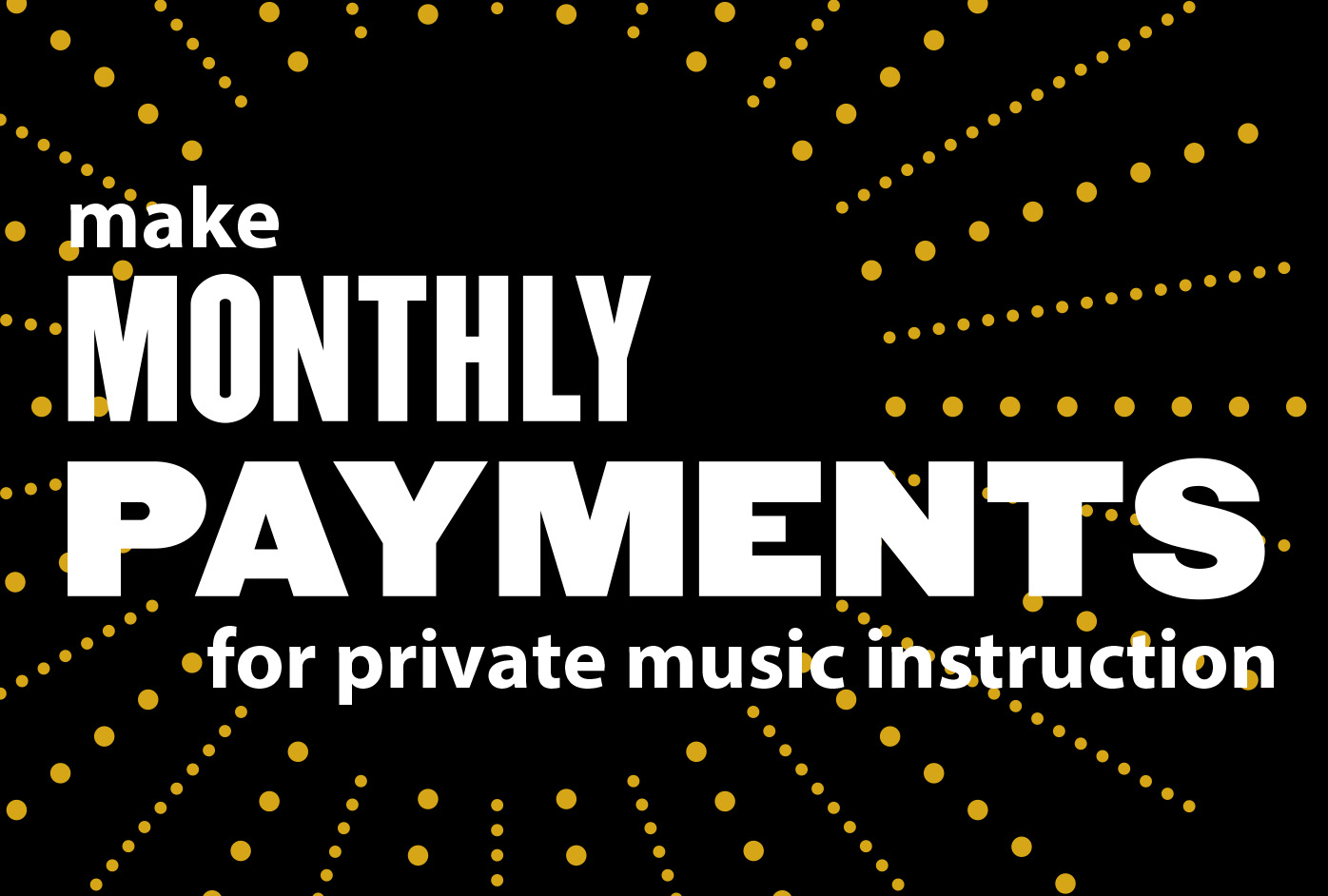 Monthly payments for CAA private music instruction should be made online by the first of the month by clicking here. Instructions for use may be downloaded here. Before using the system for the first time, please email Director Emily Arata Grillo at egrillo@pfw.edu to confirm your lesson length and rate. New students must register over the phone or in person prior to their first lesson.
Private Instruction Schedule
Spring/summer classes run January 1 through August 31, 2020.
Fall classes run September 1 through December 31, 2020.
Students may enter into instruction at any time of year.
CAA Piano Recitals for Fall 2019
The CAA fall piano recitals are scheduled for Saturday, December 14, 2pm and 3:30pm, and Sunday, December 15, 2019, 2pm and 3:30pm, in Rhinehart Recital Hall. The rehearsals for these recitals are scheduled for Saturday, December 7, at 2pm, and Sunday, December 8, at 2pm, and all students who plan to take part in the recital must attend one of the rehearsals.
These recitals feature the students of all CAA instructors and are free and open to the public.
Private Music Instruction for Ages 3 Through Adult!
New and returning students must register and pay prior to the start of each semester. Online monthly payments are available for returning students; new students should call Emily Arata Grillo at 260-481-6059 to register or for instructor information. Lessons are available in 15-, 30-, 45- and 60-minute increments; please discuss the appropriate length and number of lessons with your instructor prior to registering.
Instructors:
Purdue University Fort Wayne School of Music faculty
Professional community musicians
Selected Purdue Fort Wayne students

For a detailed listing of current instructors, click here and then choose the Music Instructors tab at the top of the page.
Lessons Available:
Clarinet, Oboe, Saxophone and Other Woodwinds
Flute
French Horn
Guitar
Organ
Percussion
Piano
Trumpet, Cornet, Trombone, Tuba and Other Brass
Violin, Viola, Cello, String Bass and Other Strings
Voice
Music Composition
Music Theory
Call if your instrument is not listed!