June 22-26, 2020
1pm to 4pm
Rhinehart Music Center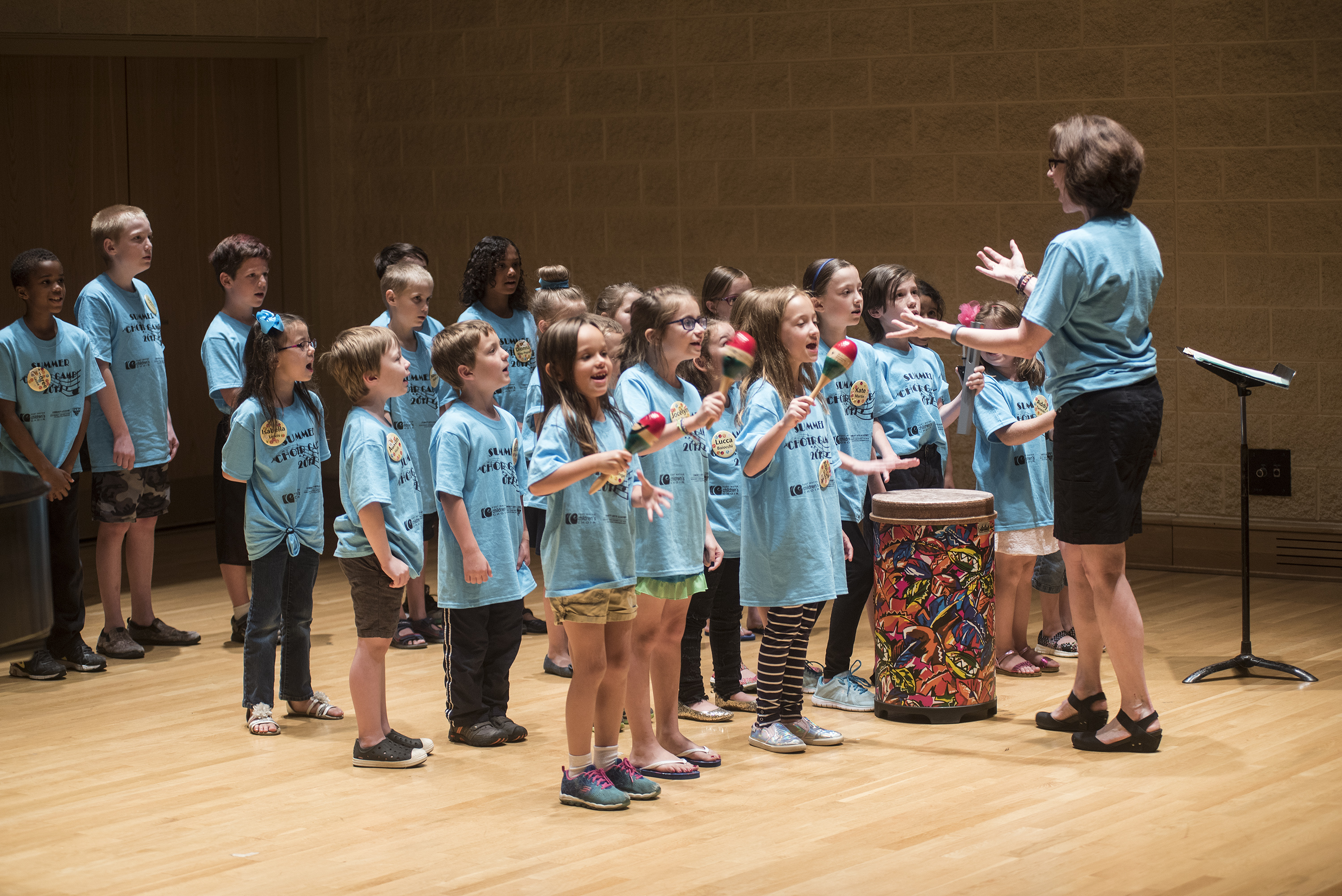 Join in the fun and learn more about the art of singing. Under the direction of Susan LaCroix of Fort Wayne Children's Choir, singers will be introduced to basic music theory through musical games, instruction, and, of course, singing. The week culminates in a short program for parents and family members. This camp is for students entering 1st-6th grade in fall 2020.
Check out the pictures from the 2017 summer choir camp by clicking here.
About the Director
Susan LaCroix is in her 24th year with the Fort Wayne Children's Choir, directing the Apprentice Choir and Preparatory Program. A native of Minnesota, she received a bachelor of arts in education from Concordia University in River Forest, IL, and additional training in the child's voice, conducting, and Level One Kodály Certification at the University of St. Thomas in St. Paul, MN. She is a music education specialist and band director at Holy Cross Lutheran School and has taught music education at Purdue Fort Wayne, Unity Lutheran School, and Southwest Allen County Schools. Her three daughters are alumnae of the Fort Wayne Children's Choir.
June 22-26, 2020

1pm to 4pm
A closing concert open to the public will take place Friday afternoon in Rhinehart Recital Hall.
Five 3-hour sessions: $119

Rhinehart Music Center
For more information, call 260-481-6059 or email Melinda Haines.
******************
Accreditation
The Purdue University Fort Wayne College of Visual and Performing Arts, including the Community Arts Academy, is fully accredited by all of its discipline-specific accrediting agencies: the National Association of Schools of Art and Design (NASAD), the National Association of Schools of Music (NASM), and the National Association of Schools of Theatre (NAST).
Refund Policy
A full refund is given when the university cancels a course or when the Community Arts Academy receives notification of withdrawal from the registrant before the third business day prior to the start of the class. No refunds will be given after class or private instruction begins. Course cancellations may occur due to low registration. Course offerings and fees may be subject to change without notice.
Parental Supervision Statement
Purdue University Fort Wayne is a public institution of higher education that offers a wide variety of classes, to a wide range of students from differing backgrounds, including adults and children in grades pre-K – 12. While the Purdue Fort Wayne College of Visual and Performing Arts is committed to ensuring the safety and well-being of all students, parents are reminded that it is their responsibility to supervise minors when they are on campus and not in the classroom. Before and after class, our teachers cannot take the place of a parent and assume responsibility for unsupervised children.
In case of an emergency please contact the Purdue Fort Wayne University Police at 481-6827.
Personal Enrichment Classes for Adults
The Community Arts Academy offers regular classes for kids in pre-K through grade 12 in art, dance, music and theatre, but if you are an adult interested in personal enrichment in these areas, please visit the Purdue Fort Wayne Division of Continuing Studies to see what types of classes they are offering.
Purdue University West Lafayette Procedures for Programs Involving Minors
The Purdue Fort Wayne Community Arts Academy abides by the Purdue University operating procedures and policy outlined in the Operating Procedures for Programs Involving Minors that went into effect January 1, 2015. This policy and registration form may be viewed here: