Colloquium 2016-2017 photos
Vassil Yorgov, Fayetteville State University, Extremal Binary Codes of Length 72.
May 22.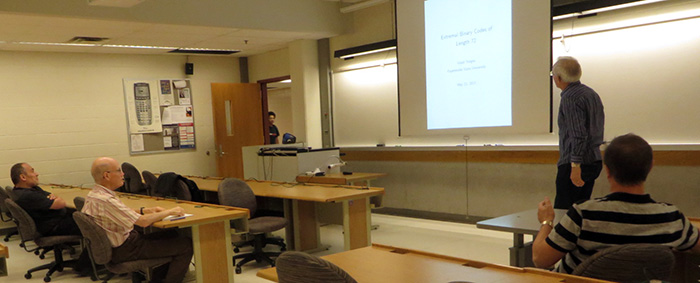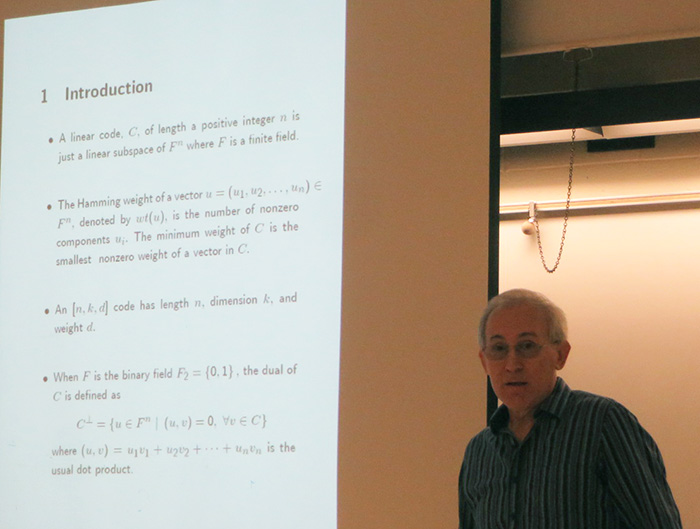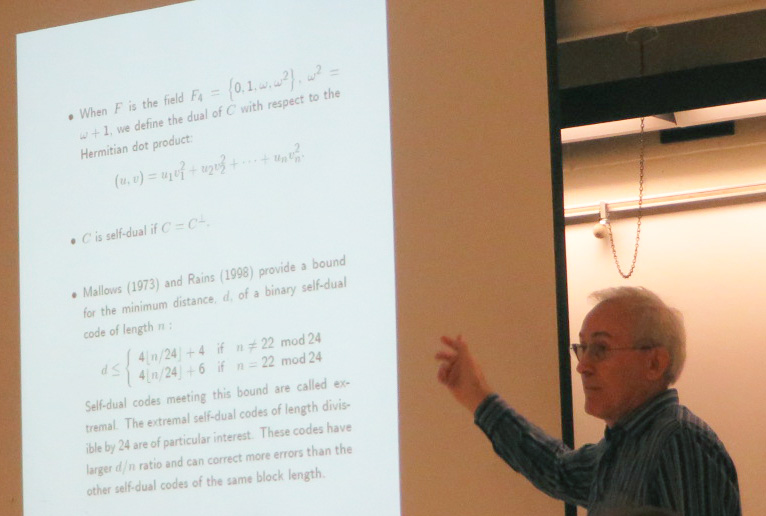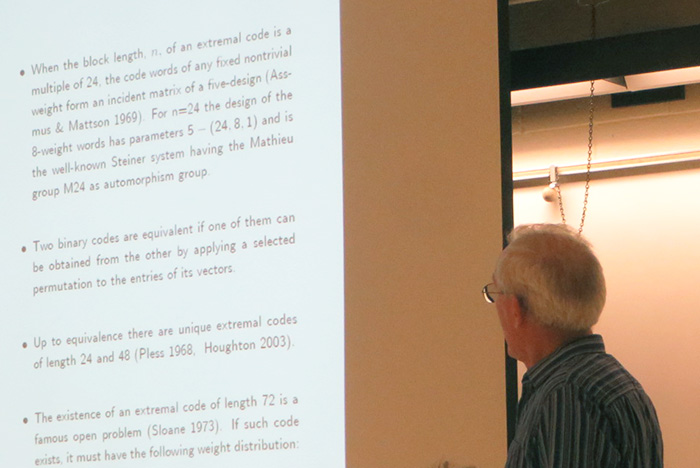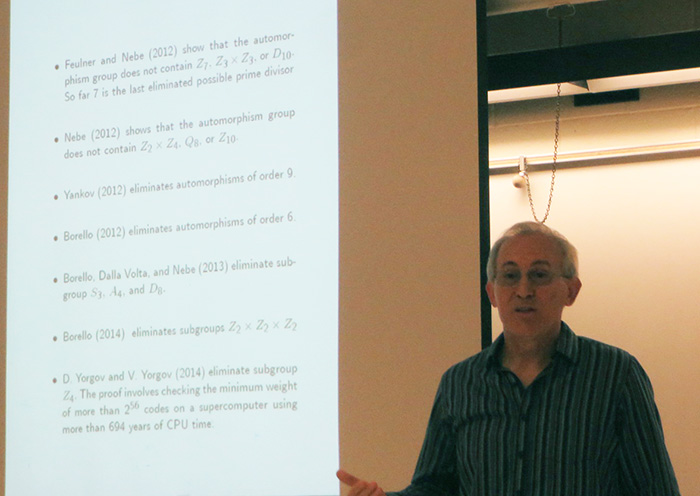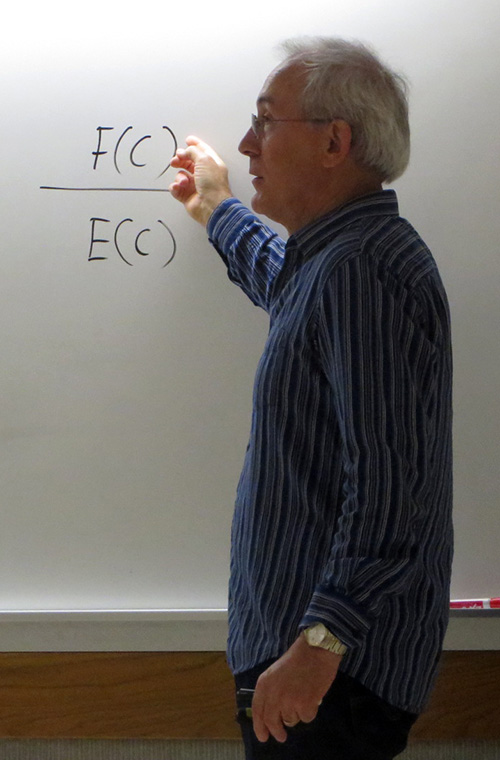 Peter Boyvalenkov, Institute of Mathematics and Informatics, Bulgarian Academy of Sciences, On Bounds for Antipodal Spherical Codes.
May 10.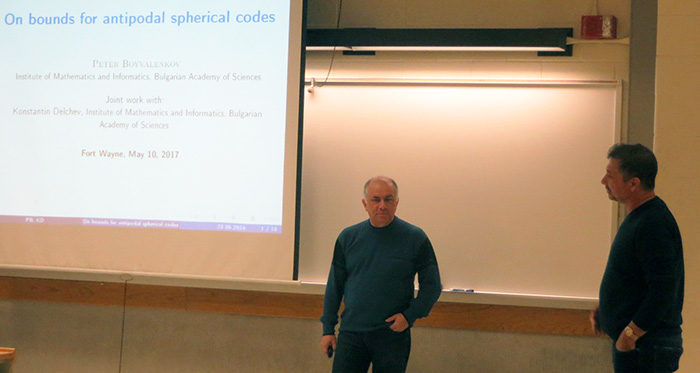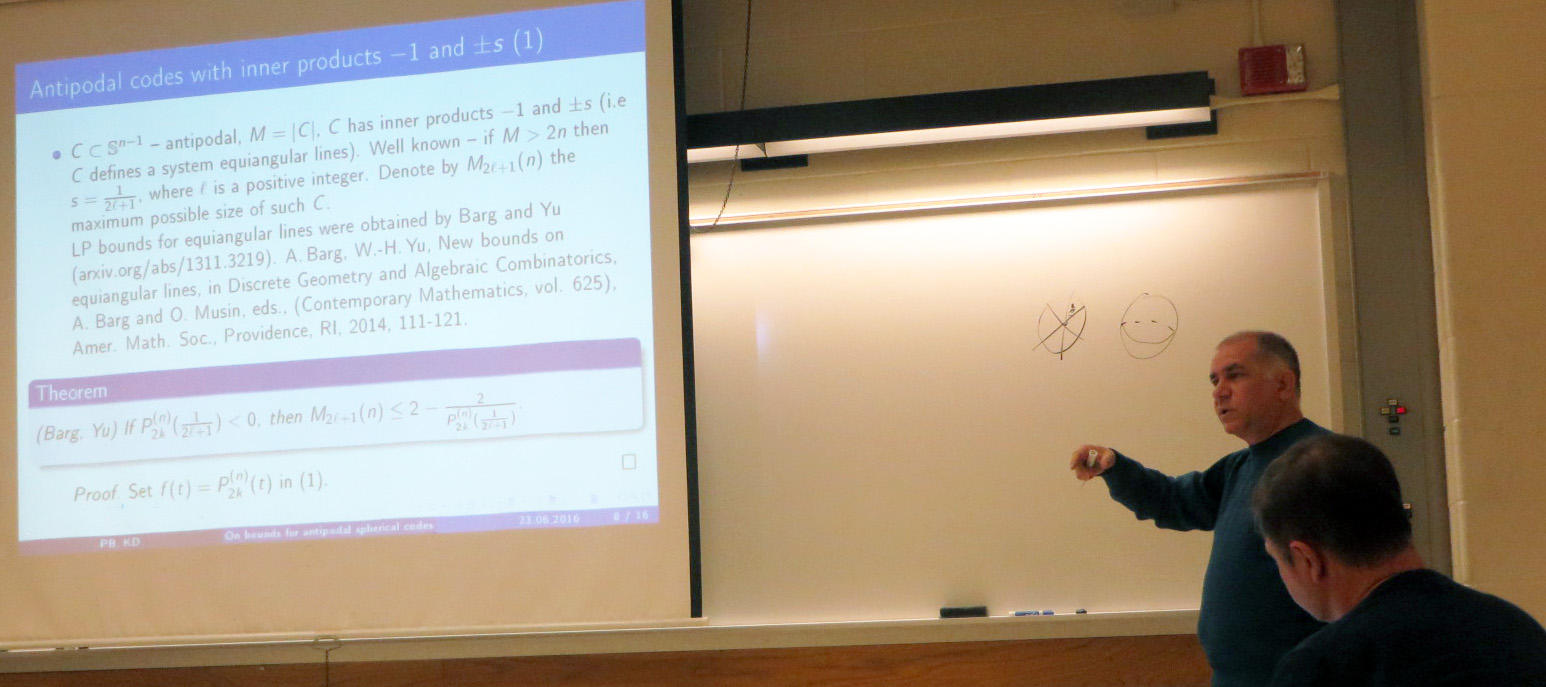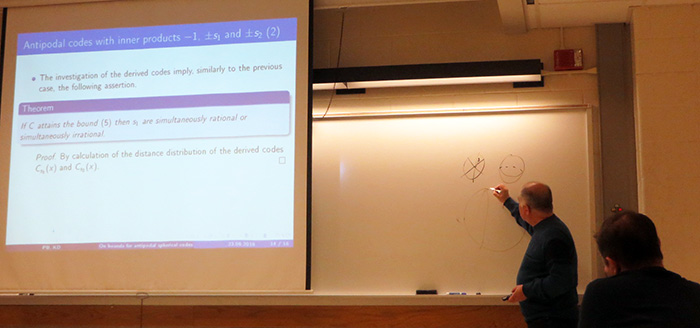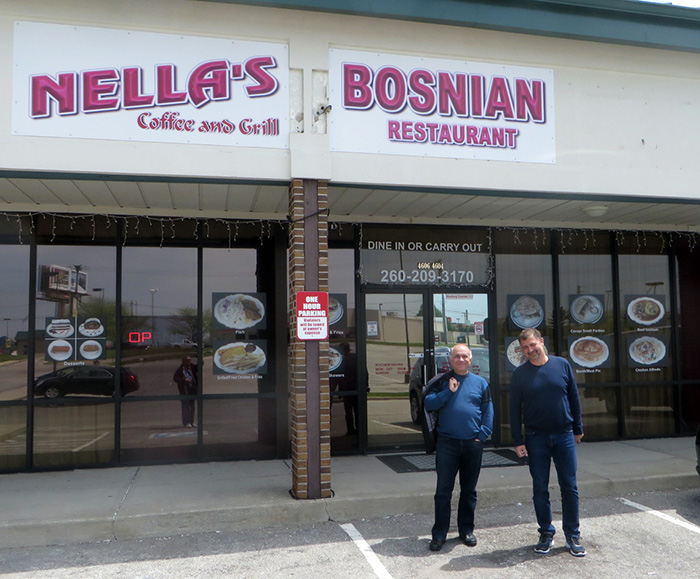 Annette Ricks Leitze, Ball State University, director of the MAT program, gave a presentation titled A Journey into Online Teaching: Tips and Tidbits, May 8.
W. Doug Weakley, My Life with Queens.
April 11
Consider an n by n chessboard. If we wish each square to be either occupied or attacked by a queen, how many queens are needed? This problem has attracted mathematicians for more than 150 years, including me for more than 25 years. I survey the history, in particular the interesting directions and people I have encountered along the way, ending with recent generalizations to nonsquare boards.
Drew Lipman, Clemson University, Normal Domains Arising from Graph Theory
March 29, 2017.
Determining whether an arbitrary subring R of k[x1±1 ,...,xn±1] is a normal domain is, in general, a nontrivial problem, even in the special case of a monomial generated domain. In this talk, we consider the case where R is a monomial generated domain where the generators have the form xi±1xj±1. For the ring R, we consider the combinatorial structure that assigns an edge in a mixed directed signed graph to each monomial of the ring. In this talk we use this relationship to provide a combinatorial characterization of the normality of R, and, when R is not normal, we use the combinatorial characterization to compute the normalization of R. Time permitting, we will discuss generalizations of this to a special class of hypergraphs and characterizations of Serre's R1 condition. All important concepts will be defined.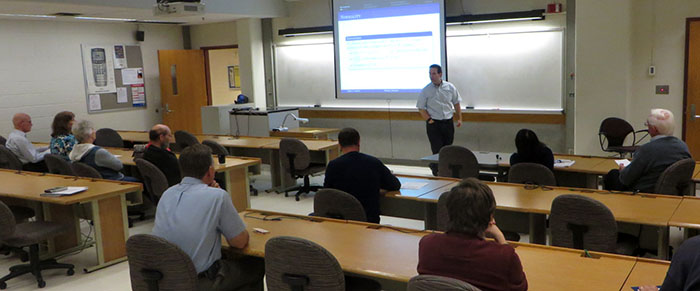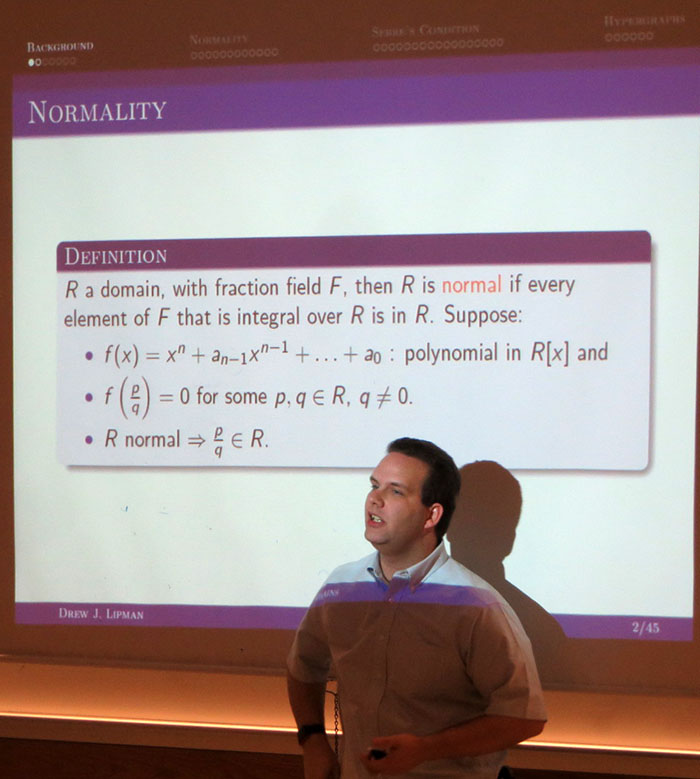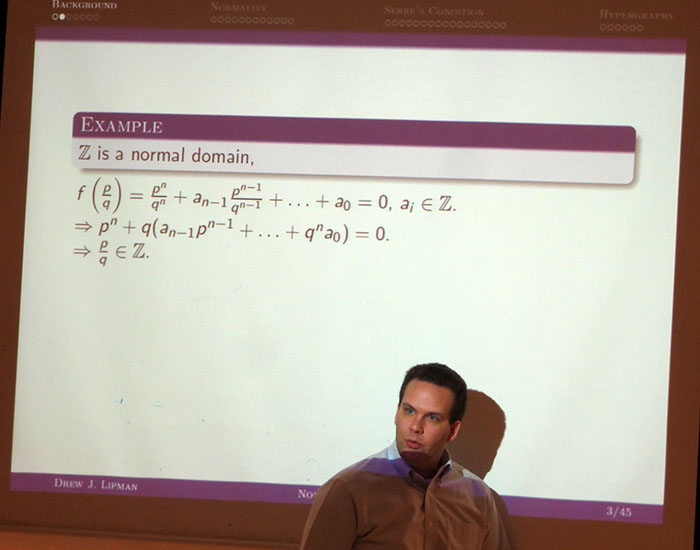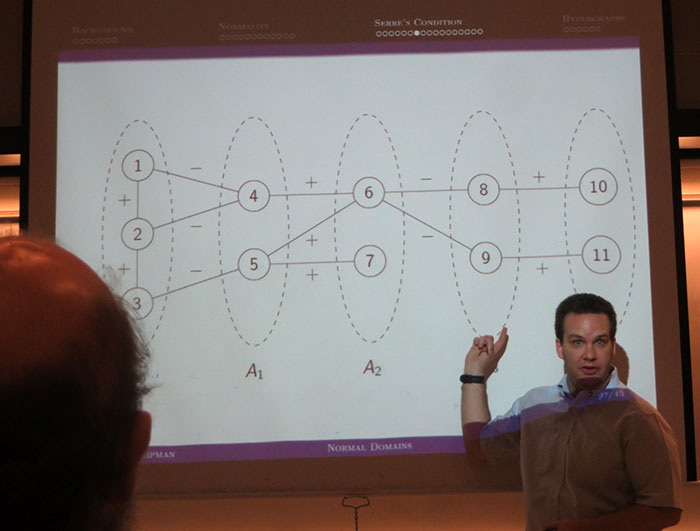 N. Rao Chaganty, Statistics Program Director, Old Dominion University, Graduate Education and Programs: An option for undergraduate students.
Oct. 24, 2016.
This talk is primarily geared toward undergraduate students contemplating the next steps, perhaps considering graduate studies. In it, we will discuss the need for a graduate education, how to get accepted into graduate programs, and how to ensure future success in graduate school. We will also discuss the layout of traditional graduate programs in statistics and some modern programs in newer fields such as data analytics and big data.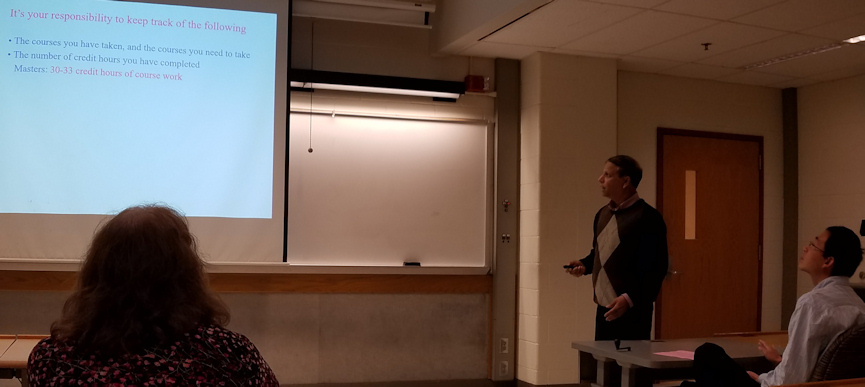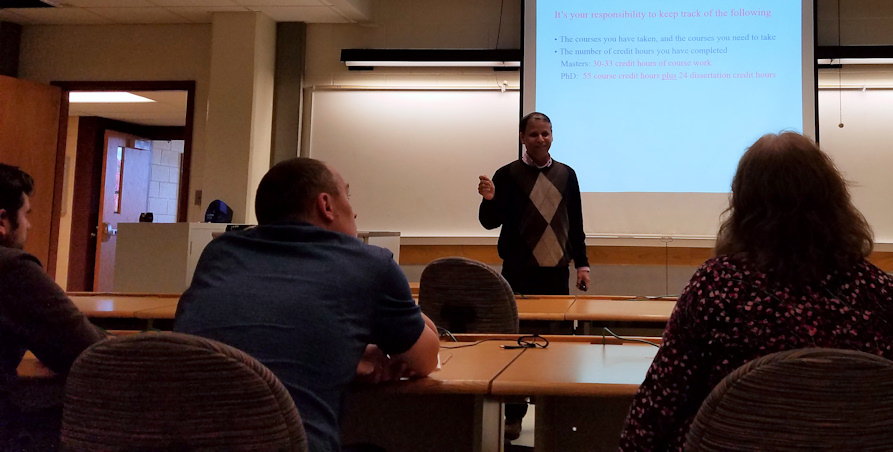 Daniela Ferrero, Texas State University, The Power Domination Problem.
Oct. 31.

Electric power companies need to monitor the state of their networks continually in order to prevent power surges and black-outs. One method to accomplish this task is to place Phase Measurement Units (PMUs) at selected network locations. The synchronized readings provided by these PMUs, in conjunction with Kirchhoff's laws, permit one to determine the state of the network at any location. Because of the high cost of a PMU, it is important to minimize their number while maintaining the ability to monitor the entire system. This problem translates into the power domination problem in graph theory. In this talk we will present some recent results in the study of the power domination problem, including a connection with the zero-forcing problem in linear algebra. We will show how the interplay between those problems allows to advance the state-of-the-art in both problems as well as in some extensions of both zero-forcing and power domination. In addition, we will present some very recent results on Nordhaus-Gaddum type bounds for the power domination number.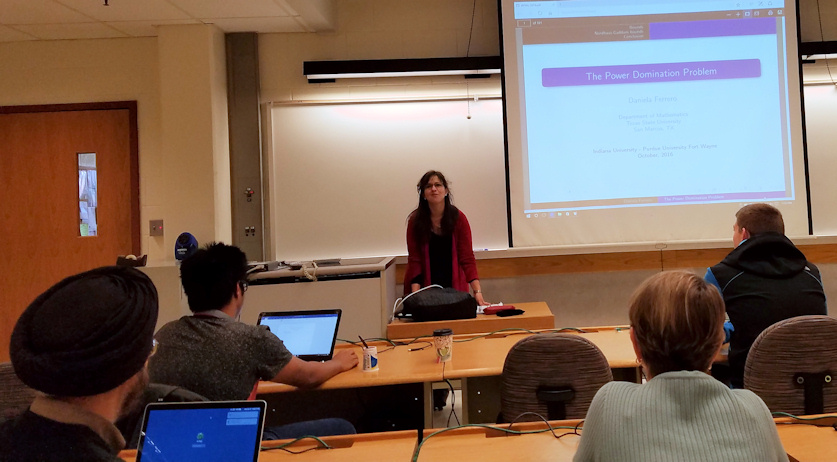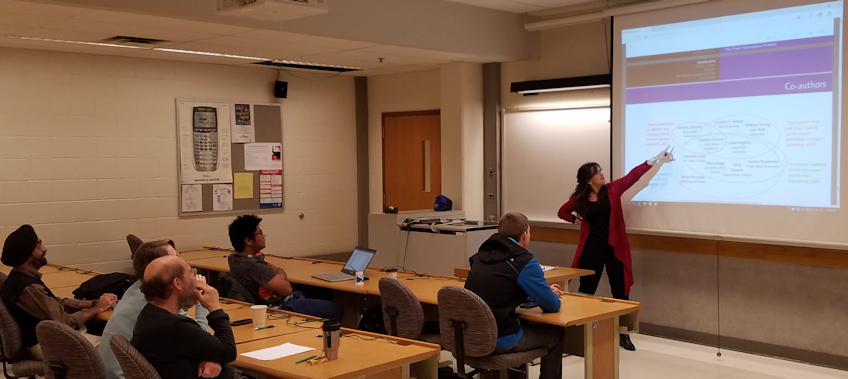 Also, in early October, the Department hosted the 2016 Midwestern Workshop on Asymptotic Analysis.