Welcome!
Welcome to the undergraduate programs in the School of Education. If you are passionate about working with people and making a difference in their lives and community, you are in the right college. Become a student in our college and join us in becoming a change maker.
Over 250 hours in the field before you student teach!
We have several program options, check them out.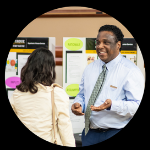 Your future in the human services field could involve restoring hope, encouraging others, and improving lives!
Do you want to teach high school or middle school?