Student News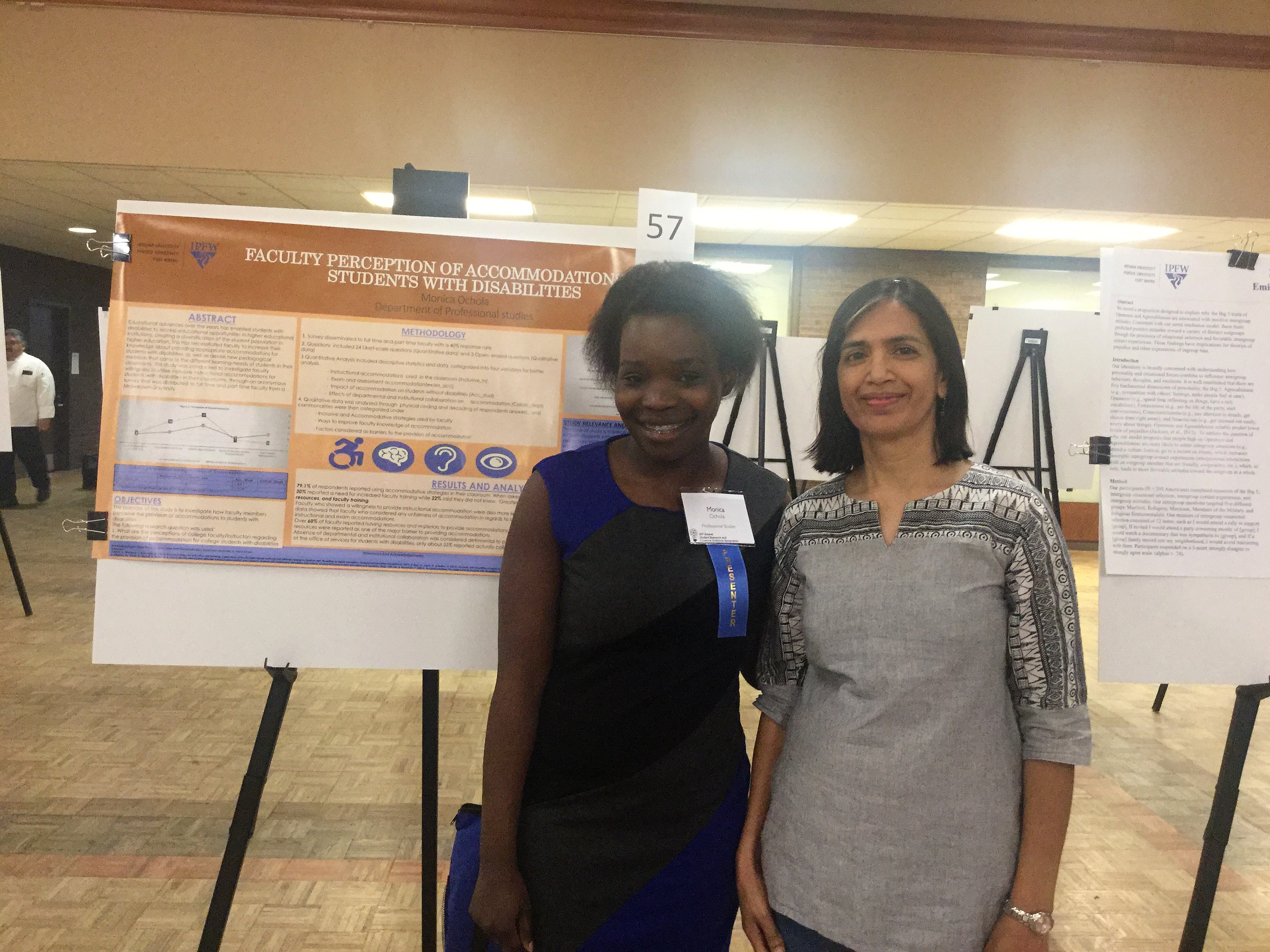 Monica Ochola, grad student in special education won her second award this semester at the 20th Annual Student Research and Creative Endeavor Symposium for her research on Faculty Awareness of Accommodations for Students with Disabilities. She won the 3rd prize and a cash award, competing with other student researchers from a variety of disciplines. Earlier this month, Monica also won the first prize and a cash award for the same research poster presentation at the Science and Society at IPFW symposium. We are proud of you, Monica!
Faculty News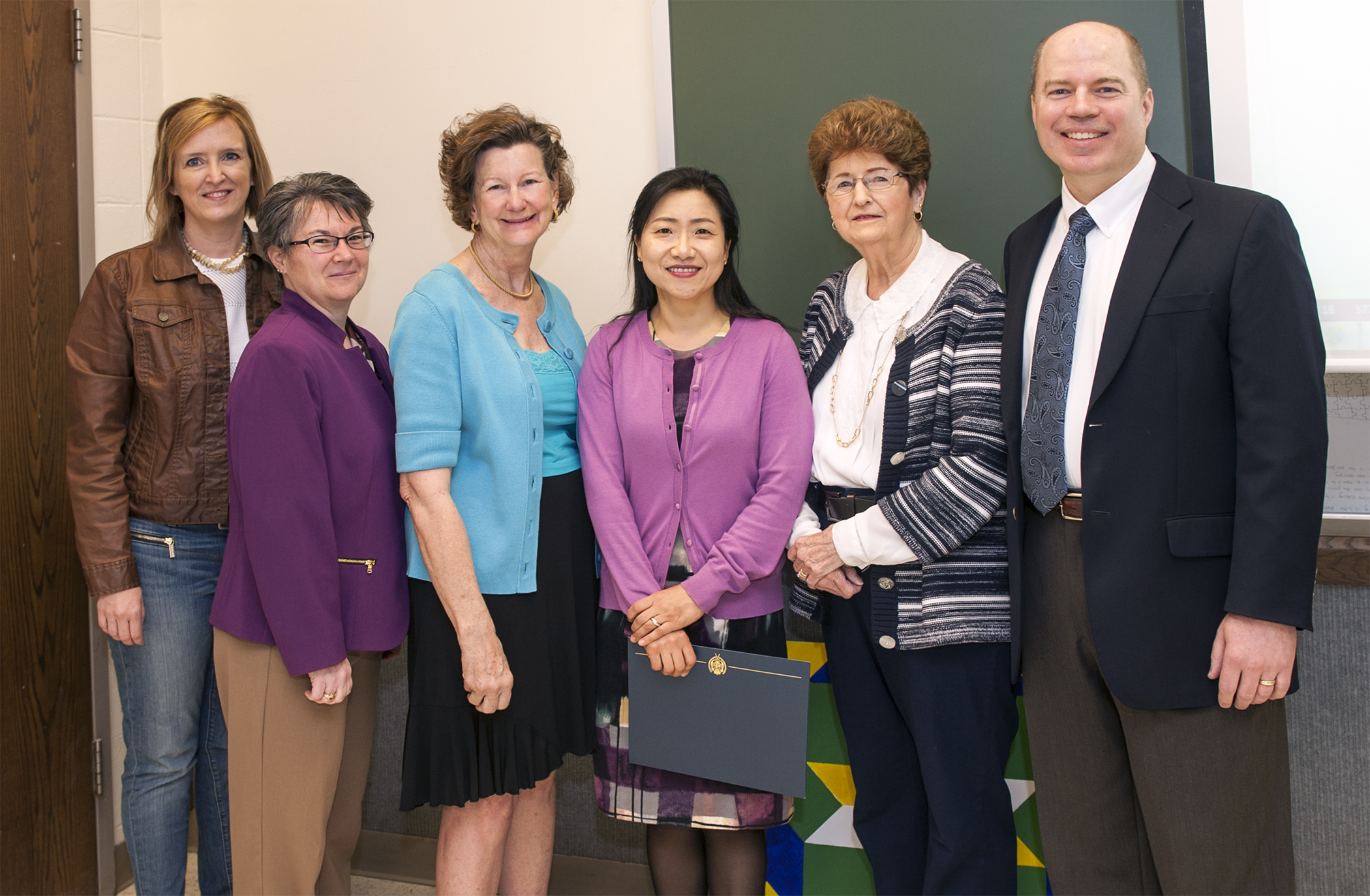 2016 Friends of IPFW Outstanding Teacher Award
Jeong-il Cho, Associate Professor, Professional Studies (Special Education) is the 2016 recipient of the Friends of IPFW Outstanding Teacher award. Pat Becker of the Friends surprised Dr. Cho with a letter notifying her of the award during Dr. Cho's class last Thursday. She will receive a plaque and $1500 at Convocation in August. Pictured above from left to right are Amy Nitza, Chair, Professional Studies, Terri Swim, Chair, Educational Studies, Vicky Carwein, Chancellor, Dr. Cho, Pat Becker, Friends of IPFW, and Jim Burg, Dean, College of Education and Public Policy.
Inaugural Celebrate Science Indiana Fort Wayne Event Engages Public
Approximately 300 parents, teachers, and youth interacted with over 25 science, technology, engineering, and mathematics (STEM) exhibits at the inaugural Celebrate Science Indiana (CSI) Fort Wayne event held in the Walb Classic Ballroom on Saturday, September 7th. Robots throwing frisbees through targets, interacting with large and small reptiles, vacuum cannons, lightning generators, building towers, constructing Lego structures, and chemical eruptions were just some of the ongoing occurrences at the event. Exhibitors from organizations across northeast Indiana brought their wares to promote a variety of STEM programs and offerings. Even IPFW Chancellor Carwein joined in on the hands-on learning as she was seen touching snakes and taking a respite on a bed of nails. "This is the first time we've hosted an event with such a variety of STEM exhibitors at IPFW, and based on their positive comments we look forward to holding another one next year." stated Dr. Jeff Nowak the Director of NISTEM and associate professor in the College of Education and Public Policy (CEPP) at IPFW. A teacher who brought a bus load of children commented, "This is so wonderful! Thank you for inviting us!" Look for this event to reoccur in the Fall of 2014!
Professor M. Gail Hickey Has New Publications
M. Gail Hickey, Professor of Educational Studies, had a textbook chapter published recently. Dr. Hickey also had three articles published in international journals thus far during 2013. Citations include:
Book Chapter
'I want to be able to do it all': Exploring U.S. Asian Indian women's career perspectives. In Ranjay Vardhan & Manoj Kumar (Eds.), Indian women: Issues and perspectives, pp. 93-116. Delhi: Indian Publishers' Distributors, 2012.
International Journal Articles
'Our children follow our rules': Family and childrearing in U.S. Muslim migration narratives. Journal of Interdisciplinary Studies in Education 1, 2, 4-26, 2013.
'I left my daughter over there': Gender in Burmese refugee narratives. St. Antony International Review 9, 1, 70-91, 2013.
'Really, most of the women's work is in the kitchen, cooking, you know?' Gender in U.S. South Asian food narratives. Acta Iassyensia Comparationis 11, 71-84, 2013.