The Accelerated Cohort pathway is a sequenced set of courses taken over six consecutive semesters, completed in approximately 16 months. Benefits of this model include:
8 week courses during the academic school year
6 week Summer courses
Offerings in both hybrid and online formats
Professional relationships with cohort peers
The advantage of the Cohort pathway is you build professional relationships with cohort peers that remain strong throughout your administrative careers. Because cohort classes have an assured level of enrollment, they are less subject to cancellation which means that cohort members can complete their programs according to the advertised schedule.
A new cohort is launched in the Spring semester (January) and Fall semester (August) when sufficient applications have been received. Therefore, early enrollment is encouraged to avoid cancellation of a course offering.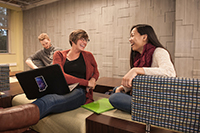 "As student in the Educational Leadership program, I felt, and still feel, completely supported by all of the faculty members. This program taught me about the big picture of the educational world through course work and practicum experiences. My professors had real world experience they were more than willing to share and the cohort program created a network of professional connections that I still use two years later."

Jane Bitting, Assistant Principal, Huntington North High School, Educational Leadership Alumna