Thank you for your interest in the Counselor Education program at Purdue University Fort Wayne. Whether you are interested in the working clinically with individuals, couples, or families in a mental health setting, or aspire to become a school counselor, the graduate program at Purdue Fort Wayne is designed to prepare you for a successful career in the helping professions. The convenient course schedule, along with the cohort model and clinical experience, are unique features of this program that provide students the opportunity to expand their knowledge beyond the classroom and put skills into practice. These are just a few reasons why the program is represented in almost every school and mental health organization in the region, as our students graduate and obtain employment.

*This program is nationally recognized as a high-quality program through the Association for Childhood Education International (ACEI).

Click
here for Graduate Admissions Requirements

View the Counselor Education Program Philosophy
Please review the program mission, videos, answers to Frequently Asked Questions below:
Counselor Education Program Mission
The Counselor Education program at Purdue Fort Wayne strives to be a premiere training institution which prepares clinically skilled, research-informed, compassionate, and reflective professional counselors. We are committed to providing a multidimensional training philosophy that involves an emphasis on mental "health" (vs. pathology), the value attached to understanding common developmental themes occurring throughout the lifespan, and an orientation in which counselors conceptualize individuals as embedded interactionally within multiple systems. We believe that an understanding and appreciation of multiculturalism, diversity, and social justice are integral to the preparation of professional counselors. As such, we are committed to developing professionals who are advocates for both individual and systemic change at local through global levels.
Is this a graduate degree program?
Yes, it is a master's degree program. When you graduate, you will have a master's degree in counseling with a specialization in school counseling, couple and family counseling, or student affairs counseling.
Are classes online or in-person?
All of our classes (with rare exceptions) are in-person. We believe counseling is a relational field, and therefore, is best learned interpersonally.
How long does it take to complete the program?
3 years, part-time (typically 2 nights per week).
Can I work in while in the program?
Yes, our program is designed to meet the needs of working professionals. Most of our students work full-time. Classes are in the evenings beginning at 4:30pm. Time management and flexibility is important, particularly in the 3rd year (internship) when you will be spending 15-20 hours a week in a local school or agency, but many of our students continue to work even in the third year.
When does the program start?
The program starts one time per year, in the summer (last week of June or first week of July).
Do I have to declare a specialization?
Yes, when you apply you must specify which track you would like to pursue- school counseling, mental health counseling, or student affairs counseling. Students do sometimes switch tracks during the program and many students come back to complete classes for the other tracks after they graduate.
What academic preparation must I have?
You must have an earned bachelor's degree by the time the program begins. We take students from all majors and there are no specific class pre-requisites.
What undergraduate GPA must I have?
Students should have an undergraduate GPA of 3.2 or higher for highest consideration. We do realize that undergraduate GPAs do not always reflect a student's potential- if your GPA is below 3.2, you might consider taking the Graduate Record Examination (GRE; http://www.ets.org/gre) to show that you have the aptitude for graduate level study. Other students choose to take a few additional undergraduate classes to boost their GPAs or take a few graduate classes elsewhere (like an online program) to show capability to succeed in graduate school. If you have an undergraduate GPA of less than 2.8 but are committed to becoming a professional counselor, please contact the Director of Counselor Education, Dr. Fineran at finerank@pfw.edu to discuss your options.
What characteristics do you look for in potential counseling students?
We look for compassionate, open-minded, non-judgmental, hardworking, self-motivated people who are committed to working with diverse populations and who are committed to social justice. We also seek students who are emotionally stable with appropriate interpersonal boundaries, those who are willing to challenge themselves personally and professionally, and who are able to work effectively both independently and in groups. Strong oral and written communication skills are highly valued. Lastly, we strive to admit students who are passionate about the profession of counseling and who are willing to engage with our student organization and professional counseling associations.
What is a cohort program?
In our program, students take classes in cohorts. This means that the people you start the program with are the people you take every class with throughout your time as a student. This leads to deep relationships between students and is a great opportunity to build your professional network before you even leave graduate school! Many of our students find life-long friends and colleagues during their time in the Purdue Fort Wayne Counselor Education Program.
Is there a thesis or exam at the end of the program?
We do not require a thesis. Students in the school counseling track will need to take the Indiana Licensure Exam upon graduating in order to obtain their license. Students in the Couple and Family Track will need to take the LMFT (Licensed Marriage and Family Therapist) exam and/or the LMHC (Licensed Mental Health Counselor) exam in order to be eligible for the state associate license.
What kind of salary can I expect to make?
This is dependent upon many factors. General information about salary and job outlook for school counselors can be found at: http://www.bls.gov/ooh/community-and-social-service/school-and-career-counselors.htm#tab-1. Info for Mental Health Counselors (LMHCs) can be found at: http://www.bls.gov/oes/2009/may/oes211014.htm.Information for Student Affairs Professionals can be found at: http://www.bls.gov/ooh/management/postsecondary-education-administrators.htm#tab-1.
Can I transfer to Purdue Fort Wayne's Counseling Program from another Counseling Program?
If you are interested in transferring from another master's degree program (online or on-campus), please contact the Program Director, Dr. Fineran at finerank@pfw.edu. The amount of credit hours that can be transferred into the program is often limited, but we can often accommodate transfer students depending on class availability.
What if I already have a master's degree? What does it take to become a counselor?
If you have a master's degree in another field, you will likely need to complete the whole master's program for counseling - a few courses may count towards our degree program, but due to accreditation and licensing standards, the counseling curriculum is fairly static. If you have a degree in counseling and wish to pursue another specialization (example: you have a school counseling degree and wish to obtain a mental health license), please set an appointment with the Program Director, Dr. Fineran, at finerank@pfw.edu to discuss options.
I want to apply but the deadline has passed. What can I do?
Please apply anyway. Occasionally, we have spots open up at the last minute or are able to accommodate students in certain classes at other times of the year. If no spots become available, we will hold your application for the next application cycle.
How can I get more information about the program?
Please consider attending one of our program information nights (typically held in October and January) to meet the faculty, talk with current students, and learn about what the program has to offer! Send your name and email address to Program Director, Dr. Fineran, at finerank@pfw.edu to be added to our announcement email list. We will send you dates and times for information nights as well as important dates and announcements, such as application deadlines. You can also get lots of information on our website, http://www.pfw.edu/counselor-education/ and like us on Facebook.
How can I apply?
Online applications are available, https://www.purdue.edu/gradschool/admissions/index.html. You will need to complete the application form and upload an application fee, brief essay, official transcripts from all universities you have attended, and request two (2) professional letters of recommendation through our online portal. Interviews are usually required and typically take place in December for early consideration and in March for regular admission.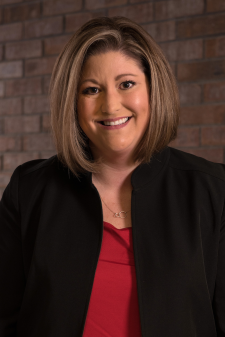 Dr. Kerrie Fineran
Associate Professor / Program Director of Counselor Education
Student Testimonial
I choose this university because of the dedication to helping me meet my goals for the future. I felt encouraged that I would not only get a valuable education that would be directly applicable to my future, but I would get vast support throughout the program. The professors have followed through immeasurably by allowing me ample opportunity to participate in research, professional conferences, and a graduate assistantship. I am so grateful to the staff for the enthusiasm and commitments they have toward helping me meet my future goals!

Heather Reynolds, Counseling Student