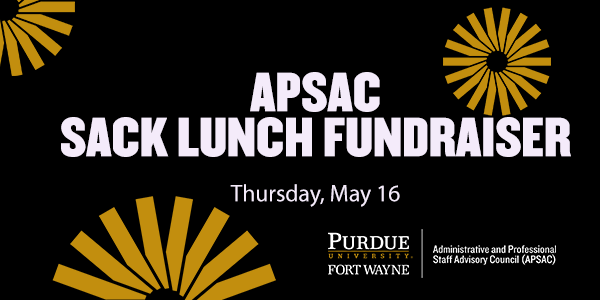 Get a tasty lunch and support APSAC initiatives like professional development and scholarships for members and dependents! APSAC members will deliver your lunch right to you in your office. Plan a group meal with your colleagues and encourage everyone in your area to order an APSAC Sack Lunch.
Lunches are just $10.99 each, and 20% of that goes to APSAC. Each lunch includes a sandwich or salad, fruit, chips, cookie, bottled water, and some special surprises!
Choose from:
| | |
| --- | --- |
| • | Chicken Cobb Salad (gluten free): Chicken breast, bacon, avocado and blue cheese tossed with tomato, scallions, hard-boiled egg and mixed greens in a fat-free veggie-herb dressing (450 cal) |
| • | Mexican Street Corn Salad (vegetarian and gluten free): Roasted corn, radish, tortilla straws, Parmesan and romaine arugula mix in smoky chili-lime dressing with avocado (559 calories) |
| • | Bacon, Turkey and Swiss Sub: Bacon, sliced turkey breast and Swiss on a sub roll with lettuce, tomato and ranch dressing (380 cal) |
| • | Roast Beef Ciabatta: Sliced roast beef on ciabatta with lettuce, tomato and chive cream cheese spread (450 cal) |
| • | Greek Salad Wrap (vegetarian): Fresh cucumber, tomato, green pepper, olives and red onion with feta cheese, in a flour tortilla with lemon-garlic feta spread (430 calories) |
Order your pre-paid lunch by noon on Tuesday, May 14. Lunches will be delivered May 16 by 11:30 a.m.
Follow this link to order by noon on Tuesday, May 14.
Use this link to share questions, concerns or ideas with your representatives.
We want to hear from you!
Congratulations, Melinda!
Melinda Conley is the winner of the 2019 Administrative Excellence Award.