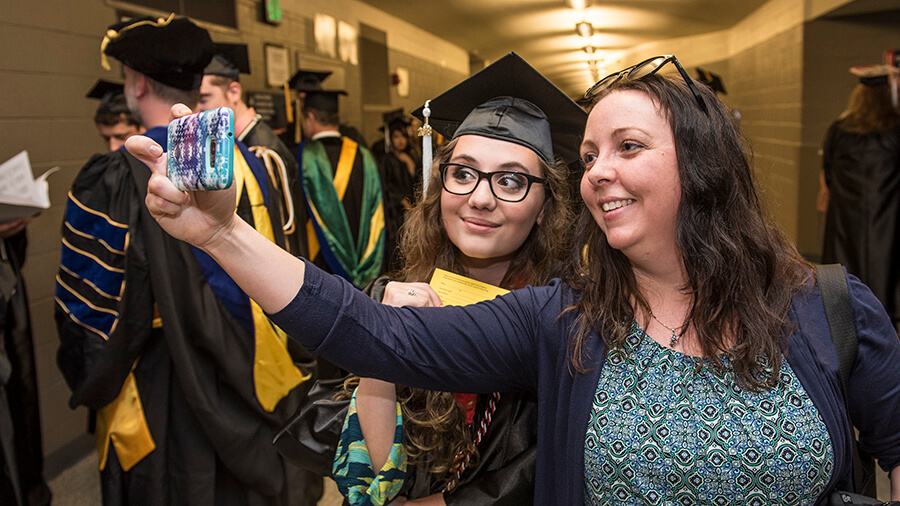 Make It a Memorable Day
Let your friends and family know about the big day. And don't forget to order your photos.
Printed Announcements
Herff Jones is the official source for graduation announcements. Keep the following information in mind:
Academic Ceremonies will notify graduating students by email as soon as the website goes live in mid-January.
Professional Photos
Grad Images offers four different photo options on commencement day (photo package prices start at $9.95.):
Posed photographs will be available from 3 p.m. to 4 p.m. in the rotunda area of the Memorial Coliseum (no appointment is necessary). You may also have your photo taken with your parents or spouse (no more than five people).

A photo will be taken of you as you go forward to be congratulated. The university logo will be used as a backdrop for this photo.

A photo will be taken of you during the ceremony as you receive your diploma cover.

A close-up photo will be taken of you as you return to your seat.
Complimentary proofs and order forms will be mailed three to five days following the ceremony. You will also receive an email (with a direct link to proofs). Be sure to check your student email address for your individual link.
For more information, contact us at 260-481-6460 or shanksk@pfw.edu.