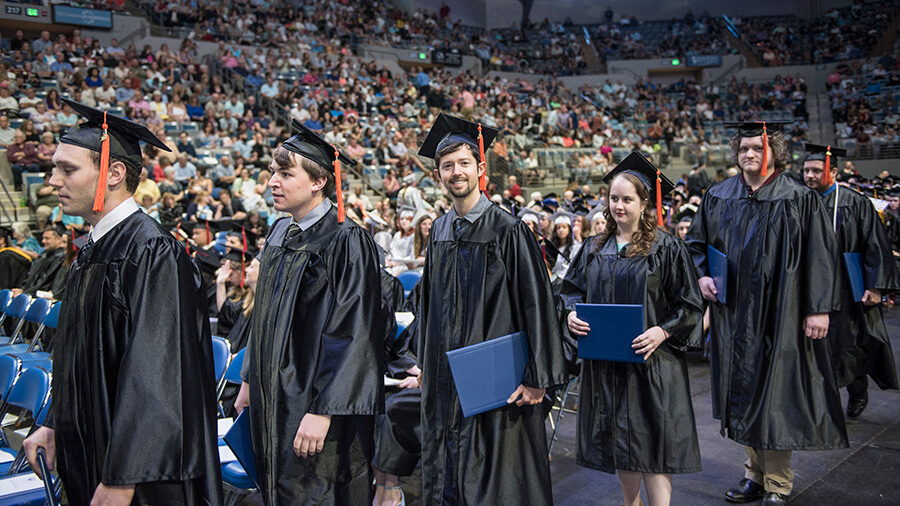 Don't Forget
One of the best things about commencement is sharing it with your family and friends. Encourage them to visit the Family and Guests section of this site to find information on parking, directions, accessibility, and maps. If you are an international degree candidate, remember that you may request an official letter of invitation for your family.
We recommend that you discuss the following information with your guests:
Parking is $6.

Tickets are not required for the ceremony, and there is no limit on the number of guests.

Traffic around Memorial Coliseum will be gridlocked 30 minutes before the 4:30 p.m. ceremony start.

Access to the Memorial Coliseum begins at 3:30 p.m.

Guests are to proceed to the audience seating area.


The student assembly area will become very crowded, so guests may not join students in this area.
You should make the following arrangements prior to the ceremony:
Ask a personal guest to hold your valuables during the ceremony.

Set a location to meet your guests at the Graduation Celebration, in Expo II and III, to avoid extreme crowding in the rotunda and hallways following the ceremony; this also allows you and your guests to enjoy complimentary punch, hours d'oeuvres, and a cash bar.