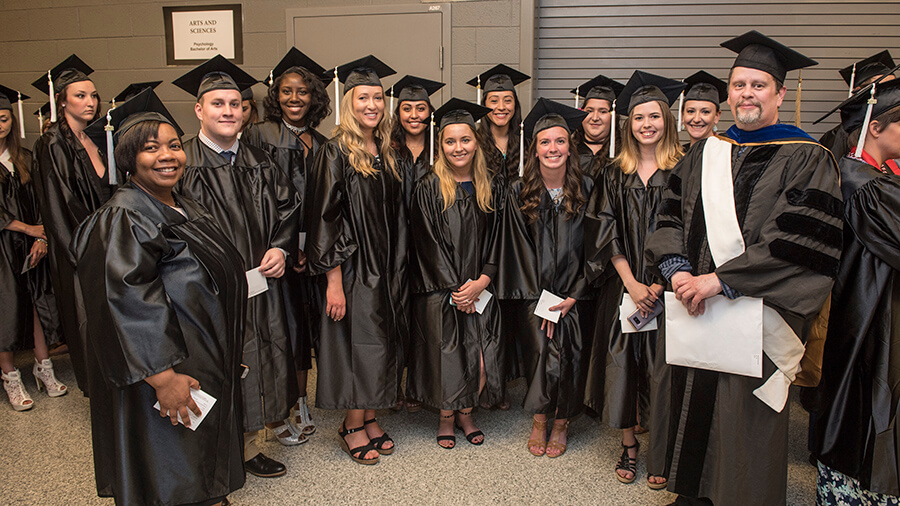 Graduation Garb
Graduates will wear custom rental apparel for their respective universities starting in 2019. Your gown's braid color and seal will depend on the university that is awarding your degree. Caps and gowns available for rental will be the same garments worn at Purdue University and Indiana University. You can rent your apparel and purchase announcements and diploma frames through Herff Jones.
Renting your apparel
You'll need to rent your apparel for the ceremony and return gowns and master's hoods immediately afterward. Caps, tassels, and undergraduate Stoles of Gratitude are yours to keep.
Online ordering is available until April 15—if you need apparel after April 15, you'll have to purchase from our limited selection at the Mastodon Campus Store. Here are a few tips for completing your order:
If you wear XL-sized clothing, an XL-sized gown should fit you well
Caps and gowns are shipped to your address after purchase. Shipping fees increase as the ceremony date draws closer, so order early to save money
If you're earning more than one degree, order the cap and gown for the degree group you want to walk with. You'll still have your name listed for each degree in the program, but your name will only be announced once during the ceremony.
Your degree area determines your tassel colors. For instance, engineering students have orange tassels and theatre students have brown tassels
Get started by renting your apparel online through the Herff Jones website. Keep in mind that you'll have the option to buy IU apparel here as well, even though the website is Purdue-branded.