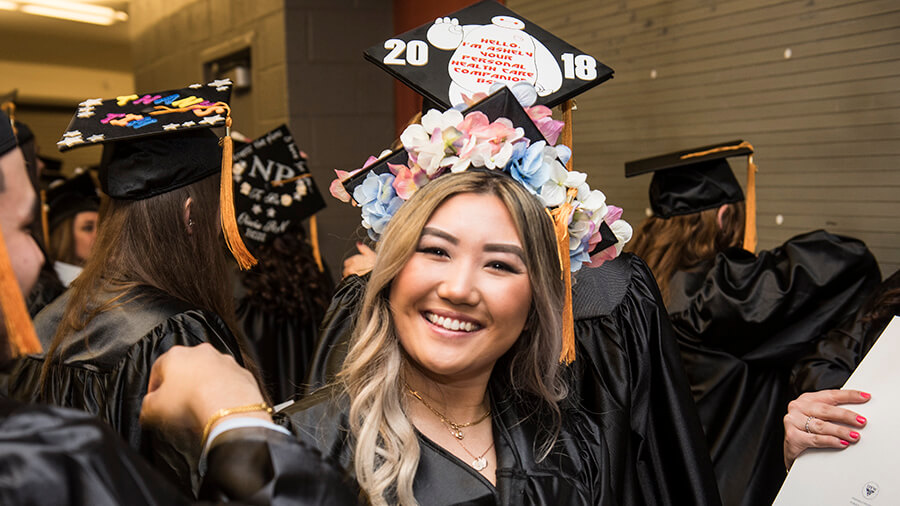 Create a Cap of Art
Show your mortarboard art by participating in our cap decorating contest. Here's what you need to know about exercising your artistic flair.
Requirements
You must submit a photo of your work to commence@pfw.edu and include your first and last name and major.
Your design must incorporate the year 2019.
No explicit or inappropriate content is permitted; you must uphold the university-handbook guidelines.
Eligibility
December 2018, spring 2019, and summer 2019 degree candidates are eligible to participate.
By participating, you agree that Purdue Fort Wayne may use your submitted photo, name, and degree information for marketing and advertising purposes.
Timing
The period for entries is from

April

1

through April 26.
The voting period ends at 11:59 p.m. on Sunday, May 5.
We will announce the winner via social media at 3:30 p.m. on May 7.
Voting/Selection
We will upload all eligible entries to the Commencement 2019 album on the commencement Facebook page @PFWCommencement. The Purdue Fort Wayne community will vote by liking their favorite graduation-cap design. All Facebook reactions will count as votes. (This contest is in no way sponsored, endorsed, or associated with Facebook.)
We will notify the winner through social media or email. The winner may pick up their prize immediately following the ceremony at the Mastodon Alumni Association table in the graduation celebration.