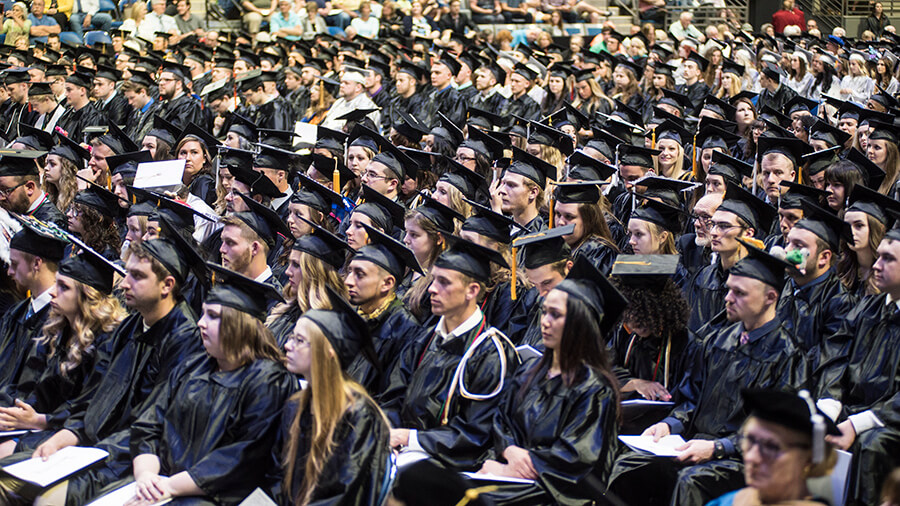 Finding Your Seat
Use the main rotunda doors to enter Memorial Coliseum. You can access the upper lobby area using the escalator, stairs, or elevator (located behind the escalator).
Ushers (look for the red coats) will direct you to the guest seating area above the arena floor. We ask that you go directly to your seat, as the student assembly area becomes crowded very quickly and organizers have very little space or time to marshal the students.
Accessible Seating
If you are not able to navigate steps, you may sit on the outside perimeter of the arena floor, where there is very limited seating, or in the 600 level, which is accessible by elevator. Ask an usher for directions or to escort you to your seat. To serve as many guests as possible, we limit floor seating to the person in need of accessible seating and one other guest. Be advised that we are not able to reserve seating.
If you need or use a wheelchair, please plan on using your own. If one is needed, though, Memorial Coliseum has a limited number of wheelchairs that ushers use to escort guests to their seats.
Help is always available from the friendly Memorial Coliseum ushers—just look for the red coats. They are in radio contact with each other and will provide you assistance as quickly as possible.
For more information, contact us at 260-481-6460 or shanksk@pfw.edu.