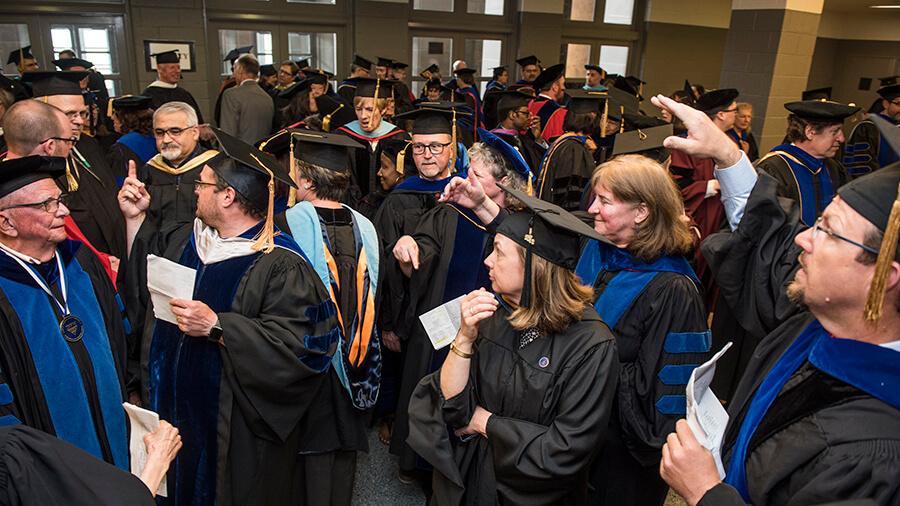 What You Need to Know
Be prepared for commencement. Here's everything you need to know.
RSVP
This will ensure the following things:
A reserved parking permit

(sent to you during the first week of May)




A seat on the arena floor with other faculty

Necessary rental regalia is ordered for you (see the following payment and deadline information)

Your commencement instructions (sent to you during the first week of May)



Register to attend and/or arrange for rental apparel.
Regalia
As a faculty member or administrator, you will wear a cap, gown, and hood at commencement. Arrange for rental apparel by marking the needed pieces in the faculty RSVP (above) by Monday, March 25. The Mastodon Campus Store will contact you to confirm your order.
Payments and Deadlines
Review the following information to take care of your regalia.
Payment Responsibility
Caps and gowns: Academic Ceremonies

Hoods: faculty members or their departments

Late fees: faculty members or their departments
Hood Pricing (Not Including Tax)
Bachelor's: $30


Master's: $34

Doctorate: $38
Deadlines and Late Fees
March 29: order deadline ($10 late fee)


April 10: order deadline ($25 shipping fee)
Delivery
You may claim your regalia at the Mastodon Campus Store during the week prior to commencement. Store personnel will collect rented apparel immediately following the ceremony in the faculty-and-administrator robing area.
Note: Faculty and staff with less than a doctoral degree will receive a black tassel. Doctoral faculty and staff will receive a gold tassel. You may order a tassel in your discipline's color at your own cost at the Mastodon Campus Store.
Parking and Commencement Instructions
During the first week of May, Academic Ceremonies will send you a specially marked envelope containing a parking permit, attendance instructions, and a map of Memorial Coliseum.
Academic Ceremonies will pay for your parking permit. If your plans change and you are no longer able to attend, contact us at 260-481-6460 or shanksk@pfw.edu and return your parking permit by May 2 to Kettler Hall, Room 157.