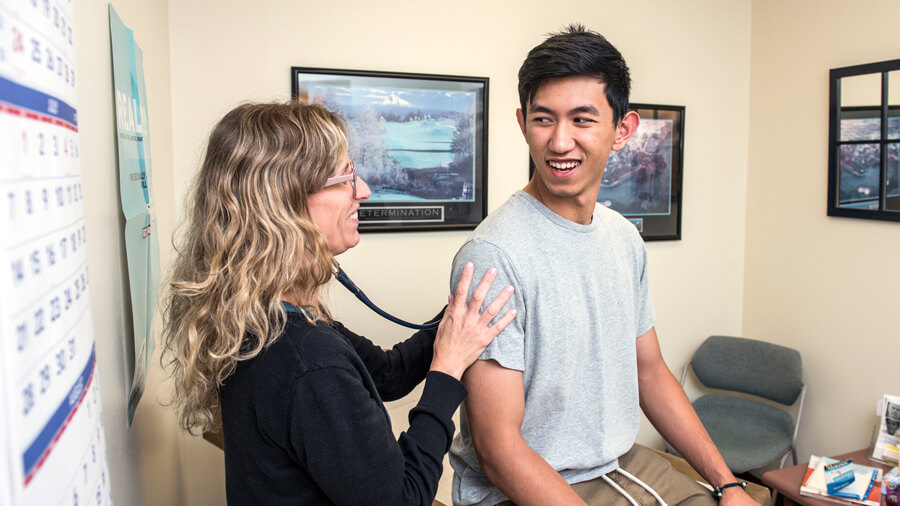 What We Offer Our Patients
To help accommodate your medical needs, we offer basic blood tests, blood pressure checks, sexual health services, treatment for acute and chronic illnesses, and much more. If you have any questions about any of our services please contact us at 260-481-5748.
Serving You
Our goal is to have you leaving the clinic more informed on your health or in better health than when you first came in. We offer our services to a large patient population:
Purdue Fort Wayne students, active employees (and their covered dependents)
Indiana University Fort Wayne students and active employees
Greater Fort Wayne neighbors and community
Primary Care
You can't afford to lose any time in your busy schedule. That's why we offer primary care services, including diagnosis and treatment of general medical conditions on a scheduled appointment basis, with same-day appointments available.
Immunizations
Getting your immunizations is simple and just a quick trip away. We offer several immunizations that will protect you and others. Please note that immunizations are required to attend classes at Purdue Fort Wayne.
Laboratory Work
We offer a wide variety of tests to assist in the diagnosis of acute diseases, chronic illnesses, and other conditions. Different laboratory work gives us the ability to check out the way that different systems in your body are functioning. Once we have the results, we can give you advice on how to continue being healthy, or be on the path toward good health.

Psychological Services
The Campus Health Clinic does not offer psychological services; however, counseling is available through our Student Assistance Program, located in Walb Union, Room 113. We also offer the Employee Assistance Program (EAP) for Purdue Fort Wayne employees.
Personal counseling is available in both these programs to assist you with personal problems such as depression, stress, anxiety, relationship issues, or substance abuse.
Sexual Health Services
The best way to have sound sexual health is to make sure that you have accurate and relevant information, and to participate in healthy sexual practices. We can help you by offering advice and determining if it's in your best interest to visit us at the clinic for an assessment or treatment. We offer several different sexual health services to help you stay healthy.