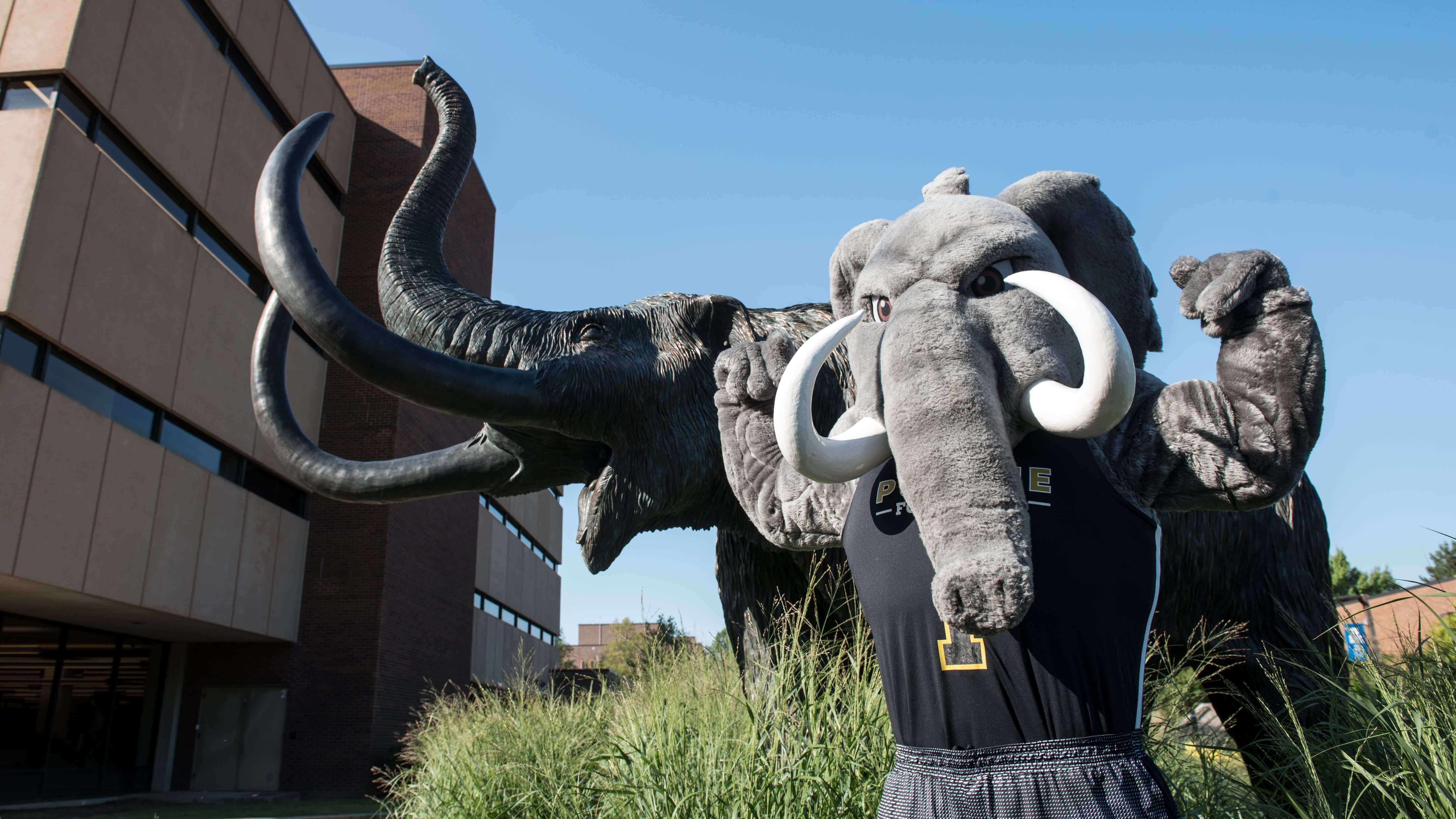 It Started More Than 10,000 Years Ago
Purdue Fort Wayne is the only university in the country with a mastodon as a mascot. It's a distinction that we are quite proud of. But how did we become the Mastodons?
Close to Home
Mastodons—stocky versions of modern elephants—roamed the southern Great Lakes region of North America more than 10,000 years ago. One such mastodon found its final resting place about two miles south of Angola, Indiana, on land that would eventually become part of Orsie Routsong's farm.

In 1968—four years after the university was founded—Routsong decided to expand a small pond on his property. After the excavation, a large bone was discovered, one that Jack Sunderman, chair of the Department of Geology, identified as a leg bone of a mastodon. Sunderman and his team of faculty and students subsequently unearthed the entire mastodon skeleton—along with the skull of a baby mastodon. Both will be on permanent display in Walb Union beginning fall 2019.
Don Is Born
How did we get from finding the mastodon to making it our mascot? Part of the reason is merely good timing, as the Angola mastodon was discovered at about the same time the university was trying to settle on a mascot. Some of the student-suggested choices included the Boiler-Hoosiers, Warhawks, Marauders, Frontiersmen, Pioneers, Elfs, and Hobbits.

Steve Pettyjohn, who served as the student body president in 1968–69, wrote a letter to the Communicator, the university newspaper, extolling the virtues of choosing the mastodon as the mascot: "It sounds different, strange. That's exactly why [we should choose it]. I'm tired of slavishly copying what Bloomington, West Lafayette, and other big schools do. Let's have the courage to be a little different."
The following year, amid all the choices, a Student Government committee selected the Mastodon as the university mascot.
The Mastodon Lives On
While mastodons have been extinct for thousands of years, our Mastodons have been roaming northeast Indiana for a half century. Don lives on as a fierce representative of Purdue Fort Wayne!